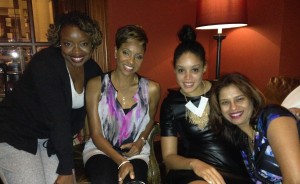 2014 is clearly my year to be in Florida.
A couple of months ago I was in Key West, keynoting the PRSA Counselors' Academy Spring Conference. Now I'm here in Key Biscayne (Miami), speaking at and soaking in the wonder that is #C2Miami – the first-ever conference produced by ColorComm (I'm a proud board member of the DC chapter).
Then, on Sunday, I'm heading to Orlando to speak at the FPRA Annual Conference, along with my friends Deirdre Breakenridge, Heather Whaling, Adam Singer, and looking forward to meeting so many friends – Adam Toporek, Bill Dorman, I'm looking at you!
Whew! I. Love. Florida!
What happens at these conferences is usually this: the energy is overwhelming… at least for me. I love it, all the meetings, and learnings, and smarts, and my mind starts racing… and then I get so tired, I crash. I always mean to write a post (or several) about what I learned, but once a few days slip by, the posts usually slip by too.
So today, I figured I'd share some of the key insights that have struck me over the last couple of days, via conference-related tweets. Thank God for Twitter and hashtags!
1. On managing your career:
RT"@ColorCommntwk: "If you don't gather information, you won't only be in the grey area but in the dark." –@rolandsmartin #C2Miami"

"" Alayna Middleton (@LoveLivePurpose) August 8, 2014
2. On balance:
Key takeaway from Edelman's "Balancing Act" panel at #C2Miami : Recharge, Be Present, and Communicate.

"" Edelman Talent (@EdelmanTalent) August 8, 2014
3. On getting that "seat at the table":
Know your company's mission and strategy! Then figure out how to be a significant part of it! #C2Miami

"" Boardroom Beauties™ (@dreambigincolor) August 8, 2014
4. On mentorship & growth:
.@soledadobrien hit it on the head. Mentors r great but having advocates & advisors to say "hey this is what you're doing wrong." #C2Miami

"" OnPoint Comms (@OnPointComms) August 7, 2014
5. More on career growth:
Thinking and starting a conversation about yourself rarely ends well for you. Think about the other person first. – @ASherinian #C2Miami

"" A Publicist Network (@ThePRDolls) August 7, 2014
6. On stereotpying stereotypes:
About stereotypes in the workplace- "I don't think any stereotype can withstand performance." –@jboydNYC#C2Miami

"" ColorComm (@ColorCommntwk) August 7, 2014
So, so much more… but there's a lot to think about just there, right? And while many of the quotes that hit home were about empowerment and personal/professional growth, they're also very much about communication to benefit your business.
Also – how cool is it that I got to hang out with MC Lyte after the after party on Wednesday night?!
Have a super weekend, all!