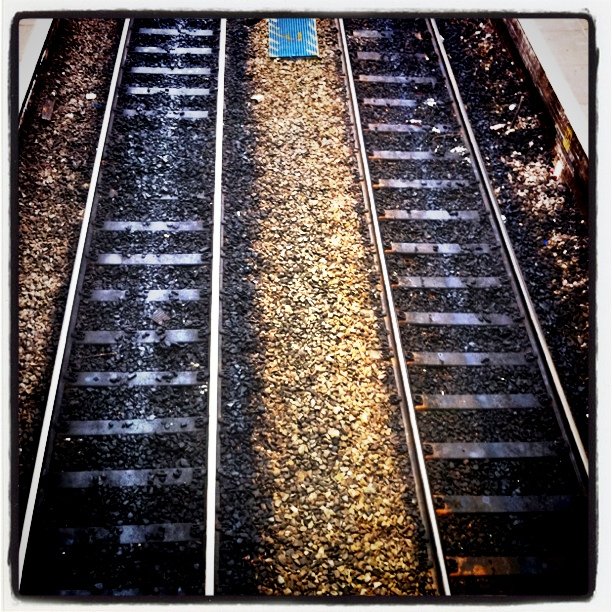 It's been just about a month since I told you WUL's publishing schedule would be indefinitely halted. Well… I'm back! More or less, that is…
Many of you have asked, so here is what happened and how the last month went.
Remember I told you I had to undergo a laparotomy (that's abdominal surgery, where they cut into your tummy, not fun) to have a mass on one of my ovaries removed. Even though my doctor had done an ultrasound prior to surgery, she couldn't really tell what it was until they went into me, so to speak.
So on September 3, I was admitted into the hospital where both an OB/GYN (the main surgeon) and a GYN/oncologist (GYNs trained to diagnose and treat related cancers) did exactly that – cut into me.
In the OR
What they found was not malignant, thank goodness, but a 7 cm endometrioma (a cyst caused by the prevalence of endometriosis, which I was diagnosed with in 2004).
That's about the diameter of a guava, or a small apple. And this puppy was thwacked all over my left ovary (I keep wanting to type "My Left Foot" for some reason) to the point where the ovary was unrecognizable, and my left fallopian tube was completely damaged. So both those came out as well.
Apparently the right set wasn't looking too good either, but since all this had happened rather suddenly and the docs only had permission to remove the left set if they had to, they left the right set alone. Which means that, if the endometriosis is not kept under control, I may have to go through all this again, but we won't go there right now.
Recovery is tiring
I was in the hospital for two and a half days, and felt like crap the first day and night. Not that I didn't feel like crap the next day, but I started recovering – in medical terms, at least – pretty quickly. There was a lot of pain but I have to hand it to the nurses; they got me up and moving the day after the surgery. At a snail's pace, I might add, but still, it was something.
And after watching CNN and ESPN for hours on end, I was ready to do whatever I needed to to continue my recovery on at home. So on Day 3, they discharged me, and I did just that – came home.
The first two weeks were really tough. I was extremely tired – much more tired than I thought I'd be, so work was out of the question. Twitter? Facebook? Ha! No way.
Before the surgery, I'd imagined working on my laptop while in bed. Ha! Not half likely. My entire abdominal area was bloated, and the closer you got to the incision, the more tender and numb (yes, both at one time) it felt. All I wanted to do was sleep and, when I was awake, watch bad TV ("Bridezillas," anyone?).
Thanks to the tightness in the incision area, getting up/down was agony. Laughing was agony. I used to pinch my nostrils so that I wouldn't sneeze and was terrified of coughing. Walking – even at an extremely slow pace, which was all I could muster – made me feel precarious. Climbing stairs was an ordeal.
For 10 days I couldn't even sleep in my own bed, since it's fairly high, and I couldn't lift my left leg without excruciating pain. So I spent the first week and a half on a low couch which, no doubt, subconsciously made me want to get well even more, if nothing else, so that I could sleep in my own bed!
Picking up the pace
After the first couple of weeks, I started getting better much more quickly. I was still tired, but as long as I didn't push myself (even to get online), that diminished every day, and my energy started to come back. My stomach got a little less bloated every day. I moved back into my bed, and started sitting up and walking around more (which I tried to do every day as therapy anyway).
And last week I was able to actually sit at my desk and work. And I was thrilled when I drove myself to get a blow dry this past weekend. Almost back to normal!
Not quite 100%
In terms of whether I'm 100%… no, I'm not. I'm walking more or less normally, but I can't run, jump, bend or stretch completely, and I'm still forbidden from lifting anything heavy. My stomach is still a little bloated, sore in places, as well as numb in a few areas. I've been told to hold off on exercising for at least another month, and to then "listen to my body." Which is all rather frustrating, since I miss exercising very much.
But I know I have to play it safe, else I could go back to the hospital with a hernia. And I do not want to be cut into twice in one year.
Right now I'm at about 80%, but that's pretty good. In fact, my doctor cleared me to travel, so as you read this, I'm getting ready to leave for Lincoln, Nebraska, where I will be speaking later today at the University of Nebraska. And I'm looking forward to catching up with a lot of my industry colleagues and friends at the PRSA International Conference in Orlando in a couple of weeks.
So while I'm still playing catch up with email, social media, blogging, and so on, I'm definitely getting back on track. It will take me just a little while longer to get "normal," but I'm getting there.
Thank you
I have so many people to thank for helping me through my recovery, I know I'd leave someone out if I started naming names. But I have been absolutely overwhelmed at the concern and kindness shown to me by so very many people; from all the good wishes you left on my last post, to coming over to my house to watch over me when my husband couldn't be there, to cooking food for me and bringing it over, to cooking food for me in my kitchen, to sending me beautiful flowers, books, emails, prayers, wishes, chicken pot pies (yes!) … thank you all so, so much.
And I hope you never have to go through anything like this, but if you do, I wish you a spouse/partner like mine, who was (and is) absolutely marvelous in his caring for me.
Say something
I've been very open with my medical condition because, as I said in my last post, if someone had paid attention to my symptoms earlier on, I may not have had to suffer as much as I have from this disease. Endometriosis is an insidious disease. It is a heartbreaking disease. I mean, it's a disease that can't even be diagnosed until and unless you're operated on!
As incredible as that sounds, it's true.
If, by being open about what happened to me, I can encourage you to speak up, ask questions, not to be satisfied by what the doctors tell you if your gut tells you so, then at least this experience will have helped someone.
So please – if you feel something, say something. Don't stop saying it until you're paid attention to.
Back to blogging
And as for Waxing UnLyrical, it's back. You'll have a few more guest posts than usual as I ease back into blogging and editing, but we're back. Many thanks to all my guest posters for helping out… and thank you for hanging around!
Image: James F Clay via Flickr, CC 2.0