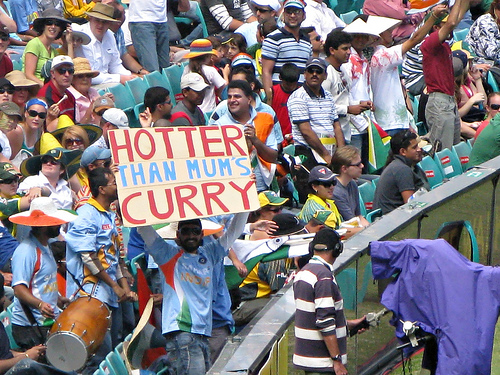 Remember how I told you I'd be watching the cricket World Cup semi-final match between India and Pakistan on Wednesday?
Guess what?
I did.
And we won!
OK, "we" is technically incorrect, since I've been an American citizen for more than three years now, but you know what they say.
You can take the gal out of India, but you can't take India out of the gal.
So today, as you read this, I'll be watching the final – the final! – match of the 2011 ICC World Cup, having dragged myself out of bed at 4 am.
'Cos, you know, I have to get the laptop ready, get my tea boiling before the match actually begins (at 5 am EDT) …
… and so on, and so on.
You know what is even more cool about this whole deal?
I've connected with people like @arzvi (thanks to Gautam Ghosh) and @SparklinGuy (with whom I'd connected before, but cricket has renewed that connection) over the last week or so.
They didn't know I existed.

I didn't know they existed.

Now we all do.
Tra la la!
Social media connections=happy ever after endings!
Of course, you and I know that's not always the way it works.
But regardless of how long I inhabit the social media space, the serendipity of connection that it facilitates is something that doesn't cease to fascinate me.
Just like I would never Рnever Рhave met Jeff Pulver had we not previously connected on Twitter and then happened to be in the same security line at Montr̩al Airport last year.
Which serendipitous event led to an almost hour-long conversation that I could not have imagined in my wildest dreams.
Not to mention I wouldn't have been speaking at WebCom Montréal in the first place had Claude Malaison and I not connected on Twitter almost a year prior.
Just like I would never – never – have "met" Gini Dietrich, who has fast become one of the PR pros I most respect and admire … had we not connected on Twitter first.
Just like I would never – never – have found almost all of WUL's guest bloggers… had we not connected on Twitter first.
Don't worry, I'm not going to tell you that it's Twitter or die.
Enough people to tell you that.
But I will say that the longer I live in this space, the more I'm enchanted by the serendipity it generates … if only one lets it.
Back to the game.
You're gonna send India good vibes today, aren't you?
After all, it might be its first World Cup win in 28 years. Twenty-eight years!
So… aren't you?
Image: MattGDawson via Flickr, CC 2.0