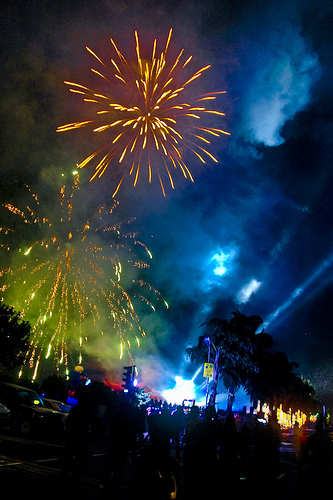 I know your Weekly Roundup is late today.
My bad; I spent most of yesterday watching the cricket World Cup finals and have been on a bit of a high ever since.
Because – and you know this by now – India won.
After 28 years, India won the cricket World Cup! That too, on home ground!!
It was an absolutely electrifying match; you couldn't tell until the last few overs of the game which way it would go.
And to be able to experience it in real time, thanks to a live stream from Willow TV was incredible, not to mention dipping in and out of the #cwc2011 Twitter stream, which was (mostly) hilarious.
Chatting in real time with various folk over Twitter, Facebook: fab.

My husband sitting in on the last few overs of the game with me, each of us with our noisemakers at the ready (not to mention three canine noisemakers who couldn't decide whether to be alarmed or excited every time I yelled "FOUR!!!!" or "OUT!!!!"): awesome.

Chatting with my parents via Skype later that day: way cool, and we couldn't stop smiling.
Though I did scream in agony when I heard my dad had declined a ticket and a ride on a private jet to the India-Pakistan semifinal in Mohali earlier in the week.
What is he, crazy?!
I'm still on a bit of a World Cup high; I suspect it will take some time to settle.
And I really couldn't concentrate on pulling together some of the best PR/social media related posts for you, since it's been all things cricket for me.
So I'm going to wrap up the week (or start it, depending on how you look at it), by sharing some of my favorite World Cup "magic moments" with you.
I hope you enjoy them.
And from tomorrow, it'll be back to our regular programming; I promise.
1. Why you should care about cricket, on ESPN's site.
Why: posted before the big semifinal, this is eloquently written and might give you an insight into why people like me are cricket-crazy.
2. The day we won the cup, by Arnab Ray, over at Random Thoughts of a Demented Mind.
Why: one of the reasons this win was a big deal is that the last time India won the cup was 28 years ago.
Written a few years ago, this is a beautiful walk down memory lane.
3. The day we won the cup once again, also by Arnab.
Why: read #2 first and then read this, and you'll understand what it means to us.
Really lovely, lovely writing.
(Which is why I think you should also buy his book. I just did.)
4. A really neat collage of several newspaper stories following yesterday's win, from @KanoonkaBaap's Twitpic.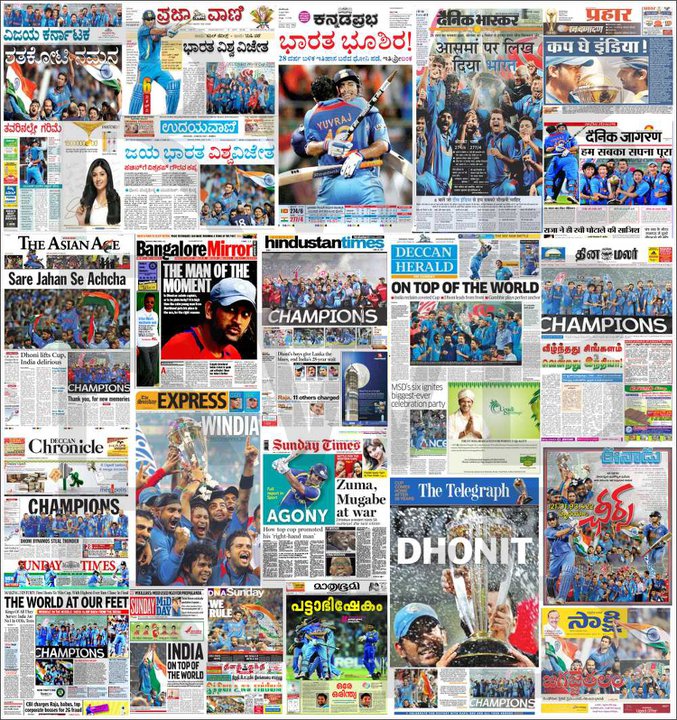 Why: can you say universal jubilation?
5. A terrific slideshow from Reuters with images from the biggest party in the world.
Why: see #4.
6. One of the funniest tweets I saw in the #cwc2011 stream, from @lokeshtweet.
Why: there were plenty that were nasty or downright mean-spirited. I don't think this one is.
7. The video of the 2011 World Cup's official anthem.
Why: it's such effervescent fun. And India did indeed "de ghuma ke."