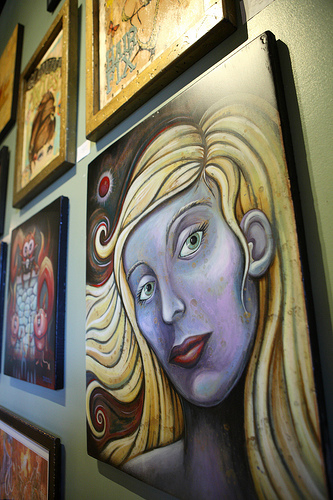 Guest Post by Steff Metal
This is part of the Blogging for Grasshoppers series
Finding your niche
With more and more individuals and companies using blogging to generate interest and create community online, little blogging "niches" are popping up all over the place.
I'm going to guess that anyone reading this blog probably has a fair idea of what a niche is.
Image: Pawel Loj via Flickr, Creative Commons
If you don't, basically it's a particular area of interest within a larger market. For example, "weddings" is a market, but "gothic weddings" is a niche market.
As any marketing guru will tell you, niches are good things.
If you're in a niche, you've got an instantly identifiable, easily reachable target audience for your particular product. And, you have a blog.
How can you combine the two to achieve Internet super-stardom and bodacious sales figures?
Find your people
When I started Steff Metal back in 2009, I knew exactly which niche I wanted to be a part of.
I wanted to be a heavy metal blogger.
Why heavy metal blogging? Because I love the music and I love blogging.
I eat, sleep, drink and breathe metal, so I can write about it with authority, intelligence and – most importantly – conviction.
I had my niche all sussed out, but I had to find my people.
Even within a relatively small niche, like heavy metal blogging (which is small compared to, say, personal development), there are many different types of readers.
There are
people who like death metal,

people who like classic metal,

people who like their metal so dark and distorted they won't listen to anything that sounds like it once had some distance relation to a melody.
There are readers just getting into metal and people who've been listening to the heavy stuff since before I was born.
There are those who love Finnish metal, those who love German metal, and those who only listen to bands from the US of A.
There are metal girls and metal guys, metal kids and metal grandparents.
There are Christian metalheads, Islamic metalheads and metalheads who worship the dark lord himself.
There are metalheads who love to rant about politics, and metalheads who just want to see funny videos of headbanging cats.
No one blogger could possibly write to please all these people, and you'd give yourself a brain haemorrhage trying.
Instead, you should focus on "your people" – the reader you know are out there who would totally "get" you and what you stand for.
My people "get" that metal isn't just something you listen to, it's a lifestyle.
My people love to travel and learn about new cultures (and their music).
My people are super-clued in and love debating wider social, cultural, racial and technological issues.
My people love an occasional headbanging cat video.
Who are your people?
If you don't know, think of the kind of people you attract in real life? What do your friends, colleagues and lovers have in common?
Finding your people
Often, they're hanging around discussion forums, because they have the opportunity to discuss a topic without feeling as though they're hijacking someone's blog.
Maybe they're commenting on news sites.
Perhaps they're surfing around Facebook.
Are they singing on a street corner with a hat full of coins?
Maybe they all follow the same celebrity on Twitter.
They could even be involved in the reading program at your local library, or be members of your church, or they could even be standing beside you in the mosh pit.
Write articles that would interest them.
Keep current with topics in your niche, and write about your opinions on them, propose issues to debate, ask questions, create contention.
Give your people something to think about, smile about, or cry about.
Keep them interested, keep them hanging them around, then surprise them with cookies, and they'll be yours for life.
Find your voice
You've got your people, now you need your voice.
Within your niche, there will probably be several well-established blogs vying for the attention of your people. Why would they read yours?
Maybe you talk about topics that no one else addresses?
Perhaps you have an insider (or outsider) perspective that's new and refreshing.
It could be that you make people giggle.
Possibly you create a wider context for a niche by introducing outside opinions or reviewing books, movies, resources, etc.
Maybe it's the way you present information – lists, diagrams, handwritten signs held by scantily-clad pirate wenches …
Probably, you present the same old topics in a new way.
If you don't do any of these things, your people won't have any reason to look for your blog, and they'll have even less reason to stay.
Maybe, your voice clicks from day one, but more than likely, it will evolve over time. That's OK.
You're a hip young blogger, baby. You have all the time in the world.
Extra for Experts
Most people reading a niche blog consider themselves a bit of an expert in that niche. Treat them like the experts they are, and they'll love you for it.
You need to have a specific, clearly defined blog topic before you can introduce "off topic" posts.
Keep advertising and affiliates niche-specific, otherwise, people get confused and annoyed and leave your blog.
If you're bored, you either haven't found the right niche, or you're talking to the wrong people.
While you blog, listen to heavy metal. You'll never be bored again.
Further Reading:
What Should I Blog About? Or Why is My Brand So Goddamn Boring?, by yours truly
Trouble Choosing a Niche? Start a Personal Blog, by Darren Rowse
The Three Essentials of Breakthrough Content Marketing, by Sonia Simons
How to Be Interesting, Jonathan Morrow
Emotional buy-in: How to Engage Your Blog's Readers with Humor, by Judy Dunn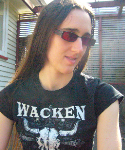 Steff Metal is a writer, artist and heavy metal maiden living in NZ with her cantankerous drummer husband and their medieval sword collection. Join the Grymm & Epic community for creative entrepreneurs, or read her heavy metal blog on Steff Metal.