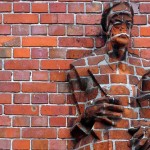 On Wednesday, we held this year's last #measurePR Twitterchat.
I asked Jennifer Zingsheim of CustomScoop, who's "appeared" on the chat before, to come back.
Not because I'm a former client of CS, but because Jen is an avid #measurePR fan and all-round measurement smartie.
(And more, as you will see at the end of this post).
Seeing as how it's coming close to the end of the year
and everyone's in a prediction kinda mood, Jen thought it would be cool to chat about what might be coming our way in terms of PR measurement in 2011.
In other words, paywalls, how pitching will be affected if these take off, and prognoses for 2011.
Image: Niels Linneberg via Flickr, Creative Commons
I was really happy at how many new participants there were.
And the discussion was… how shall I put it… intense.
See for yourself, if you'd care to download the transcript of the final 2010 #measurePR chat.
One of the very cool outcomes of the chat (yes, Don Bartholomew and Lauren Fernandez, I'm using that word!) was that it spurred Matt LaCasse to write about how paywalls might impact the practice of public relations.
It's a very thought-provoking post, so I'd love you to take a look and comment, if you so choose.
Heaven knows, I've left enough of an essay in my comment!
The progression of #measurePR this year has been fascinating.
It started from nothing – literally – just an idea that I had when I saw PR-related conversations on Twitter that invariably had measurement questions attached to them.
From the caliber of guests, to the caliber of participants, many of whom have faithfully come back every second week, I couldn't have asked for more.
Am I going to I tell you what the "ROI" of #measurePR is?
No.
Am I going to tell you what the impact of #measurePR is?
Yes.
It's bringing more practitioners – as well as business people – particularly Millenials, into the measurement conversation.
It's inspiring smart folks like Matt to write more about our field. And that's the only way our field will progress.

It's starting, more and more, to bridge the gap between "PR," "marketing," "bloggers" and I'm sure many more niches to understand that, regardless of what our titles are, we are all on the same team.
That through our outreach, we all take pride in our work, regardless of the few bad apples that inevitably penetrate any industry.
That we all want to achieve quantifiable results for our organizations/clients that correlate to, and support, their business objectives; and
That through our work, we can make some contribution, however small in the grand scheme of things, to the world around us.
The journey has been remarkable.
And it wouldn't have been possible without you.
Thank you.
OK, blown your noses?
Save the date for the first #measurePR chat of 2011 with Justin Goldsborough; January 4, 2011, 12-1 pm ET.
You are already familiar with Justin, I'm sure, through his prolific activity online and the fantastic work he does both on- and offline.
Justin's been thinking and writing a lot about influence recently, so that's what we're going to talk about.
Have a question for him? Do leave it in the comments below. And I hope we'll see you, bright and shiny, on January 4th.
And in the spirit of Christmas, as well as in tribute to Jen's great panache, here's CustomScoop's holiday message.
Happy holidays!