Estimated Reading Time: 4 minutes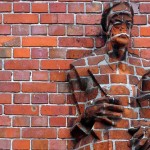 On Wednesday, we held this year's last #measurePR Twitterchat.
I asked Jennifer Zingsheim of CustomScoop, who's "appeared" on the chat before, to come back.
Not because I'm a former client of CS, but because Jen is an avid #measurePR fan and all-round measurement smartie.
(And more, as you will see at the end of this post).
Seeing as how it's coming close to the end of the year
and everyone's in a prediction kinda mood, Jen thought it would be cool to chat about what might be coming our way in terms of PR measurement in 2011. Read more →