Yesterday's #measurePR chat with Jen Zingsheim was terrific. It might not have had the velocity of last night's #pr20chat (more on that later), but we had a lot of new folks on the chat and quite a bit of fun too.
Jen "reported for duty" exactly on time (that's what a military upbringing will do for you) and we had a great conversation on making the time to measure, prioritizing and how to kill AVE.
Yes, that old beast reared its ugly head again. Try as we might, we don't seem to be able to get away from it.
If you're getting up to speed on #measurePR, you can catch recaps and transcripts here. Here are some of the tweets from yesterday's chat that:
Inserted clarity into the discussion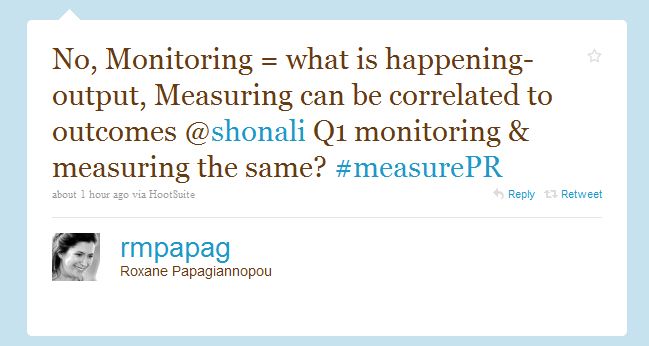 Gave practical advice on tracking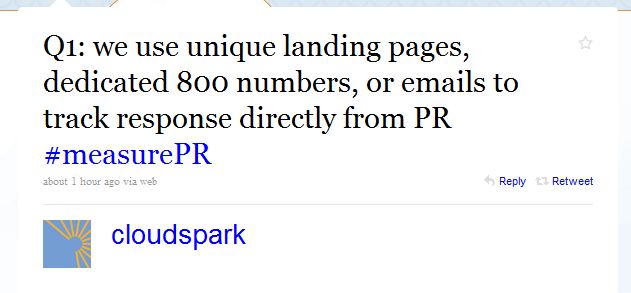 Can you see the butter dripping from my mouth?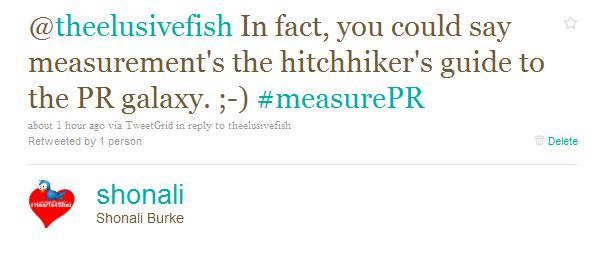 Reminded us we need to keep the proverbial big picture in sight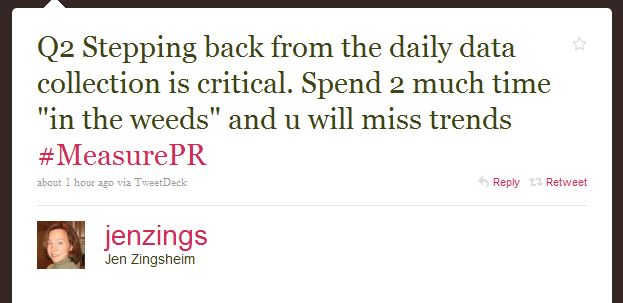 More smart advice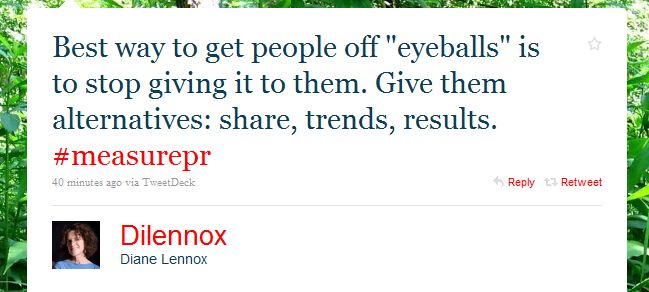 And more hilarity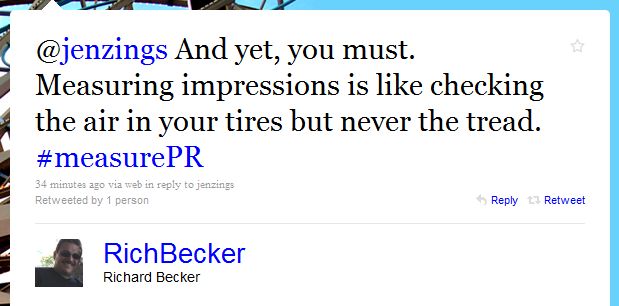 You can grab the complete transcript of our chat with Jen here. Will you add to the discussion by leaving a comment below?
#measurePR will take a break in May and be back on June 8 with (drum roll, please) the fabulous Lee Odden! That's definitely one you don't want to miss, so do mark your calendars: June 8, 12-1 pm ET.
See you then!
Resources for you:

Marshall Sponder aka the Web Metrics Guru
An IPR Gold Standard paper, by Dr. Jim Grunig & Linda Childers Hon, on measuring public relationships you should treat like gold
You can learn more from Jen at the CustomScoop blog, Media Bullseye , or on Twitter
Image: Steve Collins, Creative Commons