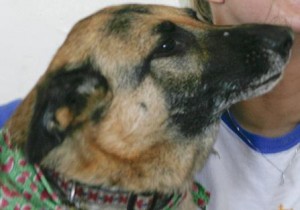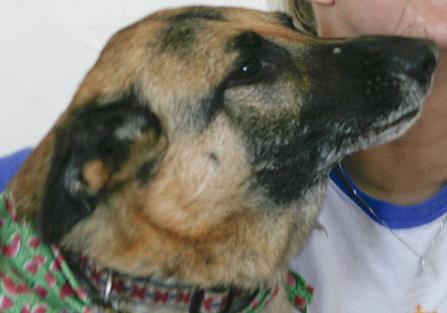 When I started blogging about Darby the German Shepherd a little under a month ago, I had no idea if my question, "Can Social Media Find Darby a Home?" would be answered, let alone in the affirmative.
(If you're catching up on the Darby story, you can find the earlier posts at the bottom of this one. In a nutshell, though, Darby's a beautiful GSD who used to belong to my husband's late uncle, who lived in Portland, Ore., and died suddenly on vacation in late April. My mission in life since that time has been to find Darby a home.)
I am SO happy and relieved that finally, the answer, is a resounding "yes." Last night, Darby went home with Ron and Shawnee Ostrom, a lovely couple who live just outside Portland with their two sons, Garrett and Blake. The Ostroms were one of many animal lovers who saw the story Portland's KOIN-TV did on Darby last week. After several rounds of meeting her, talking with the folks at Townhouse Pet Care Center and myself, it was clear that not only did they love Darby – but that Darby loved them.
KOIN-TV did a follow-up story on the Darby "chronicles," as I like to call them, last night. You can see just how happy Darby is.

You know how it is when you've been working on something really hard, and then it all falls into place and you can't quite believe that it's over? I feel a little like that right now. I just wish Tom (our late uncle) could have seen all this. I think he'd have been tickled pink. (Of course, if he were here, none of this would have happened, so it's a moot point. But you know what I mean.)
This is not quite Oscar-worthy, but I do need call out a few folk for their tremendous support and help during the last several weeks:
First, the folks at Townhouse Pet Care Center – where Darby has been living – particularly Stacey Scott and Kim Allgeier – have been absolutely incredible. They closed Darby's account a couple of weeks ago so that we wouldn't have to worry about an unending bill, and have cared for her as if she were their own. I can't even begin to express how grateful my entire family is to them. If their love and concern for Darby is anything to go by, Townhouse is a great place to board your animals, so take note, Portland.
Susan Ragan, a world-class and ex-AP photographer I'm fortunate to call my friend, was one of Darby's first visitors when we heard about Tom's passing. She took the photographs of Darby that have helped so many of you get to know her, including the one in this post, and has been ready to step in as a foster-mom if a permanent home didn't work out. If you need an ace photographer, you need to talk to Susan.
Megan Drake: thank you for writing about Darby and bringing her plight to the attention of KOIN. Janet Tobiassen, DVM: thank you for writing an extremely timely story on planning for your pets and continuing to drive attention to Darby. Jen Zingsheim and Chip Griffin: thank you for letting me talk about Darby on Media Bullseye Radio.
Rachel Farris and Kevin O'Brien of PetRelocation.com: thank you for stepping up early in the game with your incredibly generous offer of transporting Darby to a new home outside of Portland, if that's where we found one. We never had to take you up on it, but it was a lifeline for me at a time I felt I didn't have too many. Er, any.
KOIN-TV, especially Tim Gordon: thank you for showing Portland what a lovely dog Darby is and caring enough about her to come back a second time.
There are so many people I've been put in touch with over the past few weeks, from the Oregon German Shepherd Rescue, to the Oregon Humane Society, to caring individuals all over the country – I couldn't even begin to list them all. Thank you, everyone, who took the time to help me make a connection – you know who you are.
And finally, my Tweeps. You've been an amazing source of support and a wonderful community. Twitter was where this whole thing started; I'll never forget that. Thank you, each and every one of you.
The story has a happy ending. Darby's found a new home. And social media did it for her.
P.S.: I have no idea if Darby will keep tweeting. You'll just have to wait and see, won't you?
Earlier posts: