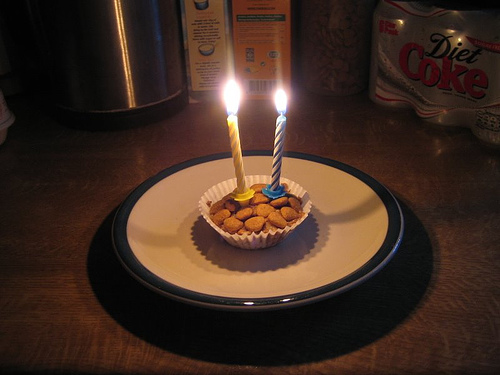 Today's a big day for me. You see, today Waxing UnLyrical turns two.
The terrible twos! Bring on the teething, the tantrums, the tiaras!
There's been quite a bit of teething over the last two years, and I have no doubt that there will be more to come. But it still makes me feel good that two years down the road, I'm still here.
One usually thinks of milestones as markers of extraordinary events; the moments that made such an impact on one's life, one will never, ever forget them.
But for me, WUL's milestones have been the many baby steps it has taken over the last 24 months.
My first post, for example. Even though I'd secured the URL, etc., I still hesitated over what, exactly, the first post should be.
That day, Joe Perez was helping me set things up – thank you Joe, for all the help you have so generously given me – and, before I knew it, that led to the post. Even though I didn't think I was ready to start writing, somehow I did.
Taking that first step was a milestone. Because it meant I'd started, which meant I could keep going.
Other milestones?
The first time a post was listed. I was stunned. And elated that I could write something someone else considered "bizarre yet strangely accurate." Thank you, Rax Lakhani.
The first time I felt I'd actually helped someone by blogging, when I wrote a post on accreditation, because of the conversation that ensued and comments and notes I received long after the post was published.
The first time I got a dog adopted through social media, of which WUL was a large part.
The first time I posted a video that I had taken, shaky and all. Yes, I'm what you could call video-happy.
The first time I wrote a post while flying high, high, like a bird in the sky…
The first time I had a guest blogger!
The first time I created a Twitter chat… and a place to house it.
The first time I had a regular guest blogger!
The first time one of my posts (on mobile marketing) was picked up for Ragan's PR Daily. Thank you, Jackson Wightman.
The first time I had more than one regular blogger… and realized I was growing a blogging team. Which is now up to 10. Ten!
The first time I fixed something pretty major – my 404 page – on WUL on my own. Only non-geeks will understand that.
Like anything else, WUL's been up and down. Some posts have been better than others (IMHO, and I'm speaking about my posts, my guest bloggers are all brilliant), some have been easier than others, some got a lot of attention (relatively speaking) and others were ignored.
They're all special to me – because they're here and you took the time to read them – but those I've mentioned bring back particularly fond memories for me.
Three more things.
First, today's post is not just the second "anniversary" post, it's also the 118th consecutive post. Which means that, since September 13, 2010, I (or a guest blogger) have published a post every single day.
That's a huge deal for me.
Second, I have learned that spammers can be quite inventive. They also make me feel like I accomplish something almost every waking hour of my day, when I can give WordPress a resounding "Yes!" when it asks me if I want to delete the little buggers permanently.
Third – and most importantly – I am really grateful to each and every person who has ever visited, read, commented on, listed, blogrolled or shared this blog (barring you spammers, I was kidding up there). I still feel very much like a newbie blogger, but you make it feel easier every day. I could never start to name all of you – I just know I'd leave someone out and feel terrible when I remembered – so thank you.
Thank you, thank you, thank you.
Image: Matthew Petty via Flickr, CC 2.0