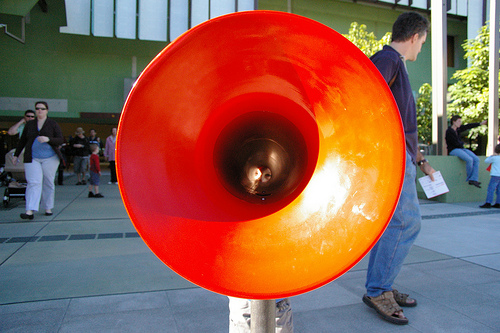 I first heard about Amplify earlier this year; I believe it was at the January chapter meeting of IABC/DC Metro.
My friend (and client, but he's a friend first) Shashi Bellamkonda is, I think, genetically-wired to try and talk about new things – no doubt why he's Network Solutions' "social media swami," and he mentioned it.
So of course I checked it out.
Image: Matthew Smith via Flickr, Creative Commons
Can you say "love at first byte"?
As the year went by, I found myself playing more and more with Amplify and now it's become one of my top three social networks. I've often thought about writing down why exactly it is that I love Amplify, but never got around to doing it.
Since I'll be on Joe Hackman's Ampalooza tomorrow (3-4 pm ET) talking about Amplify with Tinu Abayomi-Paul (one of my Women Grow Business contributors and one of the most social media & SEO-savvy people I've met), Alex Schleber (Joe calls him an Amplify power user, and he really is), and even Eric Goldstein (Amplify CEO), I figured it was now or never.
Just why do I love Amplify so?
1. It's easy.
It integrates with Twitter, which was the first reason I took to it. I didn't have to set up a different user name (that drives me crazy, I mean how many user names can I have?!). So when I post to Amplify, it posts to Twitter as well (assuming I've set up the sync) – and I can post to as many Twitter accounts as I like.
2. It really is a conversation platform.
As much as I love Twitter, and have come to enjoy Facebook more recently, each of these platforms has its limits. What's really cool about Amplify is that when you want to start a conversation, you have 1,000 characters with which to do it.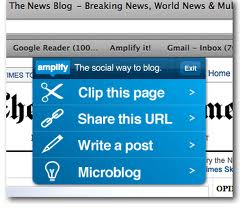 Over and above that, whenever you "clip" a post to share with others (nifty plugin for Firefox et al), you can add your own perspective to it. More often than not, I've found sharing those thoughts is what sparks conversation.
3. It syncs with several platforms.
As of now, I have Amplify set up to auto-post to Twitter, Facebook (I can sync it to either my personal or business page, or both) Google Buzz and Delicious. There are several other options, such as Flickr, Tumblr, WordPress, Blogger, etc… even Ping.fm.
I don't auto-post to all of those, but it's nice to have the option.
4. You can set up your own blog.
Just like Posterous, you can use Amplify as your primary blogging platform, as well as auto-post to your own blog. I personally don't use this option, but it's there for those of you who are into that kind of thing.
5. You can schedule posts to Facebook.
Can you say OMIGOD?! This is a real boon. I know we can do that for Twitter through HootSuite, etc., but one of the major grouses I have with Facebook is that you can't schedule posts directly, assuming you'd want to.
Now, I don't schedule a lot of posts, but say there are two or three I'd like to promote through the day, and not all mine. Wouldn't scheduling make it handy, in case I can't post them exactly when I'd like to?
Amplify lets you do this. And it's the one platform I've seen that will use your own comment/perspective (see #2 above) as your Facebook "comment." That's really nice.
"Well, I can do this through HootSuite, etc.," you say.
Ah, but does the image accompanying your blog post show up? No. And if you're sharing someone else's post, as long as you "clip" the image as well, that will show up too.
This is important to me since I've noticed people tend to interact with posts that include visual material much more, be it images or videos.
(What I'd love to see if they can pull off, is for a way for people to tag Facebook friends through Amplify. Now that would really be something.)
6. Responsiveness.
I have never – NEVER – seen the top folk at startups respond to the questions and requests of the "every day people" who use their services.
Most of them: if Scoble says "jump," will say "how high?" (At least, that's the sense I get).
But every time any of us have suggested changes to Amplify, Eric and Chris Parandian have welcomed, listened and… implemented them!
And Amplify has all the other bells and whistles we've come to expect thanks to Twitter: tagging people using their Twitter handle (my suggestion!) so that they're alerted to those posts, using hashtags to call out and index conversations, a widget that you can add to your blog, posting to multiple "Amplogs" (the sites you set up on Amplify, though as of now, you can't do this at one go), and more.
7. It really is a community.
I think what delights me most about Amplify is that there really is a community sense to it. Perhaps Twitter was like this in its early days; but more often than not, when I ask a question on Amplify, people will respond thoughtfully – not always agreeing, but always respectfully.
I've been experimenting with Quora as well, and in my opinion, it's a far cry from Amplify.
I'm not on Amplify every day; mostly because when I clip posts, etc., I want them to be posts that I think others will enjoy. If I don't find 'em, I don't clip 'em.
But when I am, I really enjoy it.
If you're not yet on Amplify, I strongly suggest you check it out.
To get started, listen to this interview Joe did with Eric a few months ago (and I wouldn't have met Joe had it not been for Amplify, and now he's becoming a good friend and someone I rely on for advice).
I can't guarantee you'll like it, or even "get" it at first; but I do think you should give it a chance.
And hey – do tune in tomorrow to the Ampalooza, won't you?