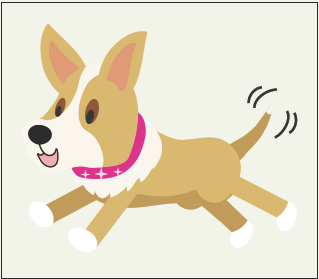 "2016, did the door hit you on the way out?"
A lot has been said, and written, and commented on, about what a crap year 2016 was, and how relieved people would be to say "buh-bye" to it (including me).
About all that was lost, people who passed away, political events that may or may not have gone in our favor (depending on our point of view)… and so on and so forth.
But let's face it; every year has its share of ups and downs. And when we have some perspective, and are looking back at 2016 decades (or even mere years) from now, we may have a slightly less visceral reaction to it.
I do think 2016 was a bit different in the frequency of unusual events we experienced, with outcomes many of us didn't expect (even those who ended up being pleased with them).
But ultimately, the only way we'll progress is by moving forward, not by looking over our shoulder at all we've left behind.
The one where Cartoon Shonali makes her debut
About four years ago, I wanted to start doing custom holiday cards, featuring "Cartoon Shonali" and the Birdie, whom many of you may recognize as my homage to Twitter, because of how that particular platform introduced me to the wonders of the social space.
The problem was that, being a small (ok, tiny) shop, we didn't get our act together until the holidays had come and gone.
So instead of sending out a holiday card, we decided to make it a New Year's greeting.
And folks loved it. Cartoon Shonali and the Birdie – who made their debut in the first SBC newsletter (please don't try to find/subscribe to it, it's defunct!) – were here to stay.
Ever since then, while I certainly wish people for the holidays, our custom eCard makes its appearance in the new year.
An h/t to the past to move into the future
As you know, 2016 was a pretty crazy year for me.
Professionally, my company changed direction quite radically and intentionally; from taking on the more typical consulting gigs to a much stronger focus on training and education.
Personally, I had multiple "events of significance" hit me, not the least of which were my mother and Suzy Q. being critically ill.
Fortunately, my mom made it. As you know, Suzy Q. didn't. And that literally broke my heart.
It took a while, but I've started to get my groove back.
Look to the rainbow
None of us would be here, today, right now, without everything we've been through.
So for all that I experienced in 2016 – exhilaration and despair, love and loss, gratification and defeat – I am grateful.
But, as 2017 takes hold, I know that doing something to take a step forward every day – even if it's a really tiny one – is the only way to move towards, and find, rainbows.
While I am grateful for the past, I am ready to look to tomorrow… as, I hope, are you.
So from my business to yours, from my home to yours, from my heart to yours, I wish you a year filled with the beauty and promise of rainbows.
Happy New Year!