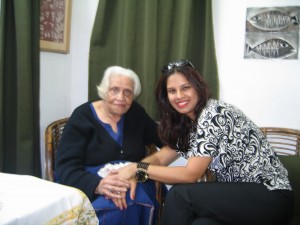 There are three things happening this weekend that make me a tad ruminative (and yes, that is a word, look it up).
My friend Priya Ramesh is getting married tonight.
It is my maternal grandmother's birth anniversary (that's me with my grandma's best friend).
And tomorrow is Father's Day.
On the face of it, these three things don't have anything in common. Yet they do.
My grandmother aka "Didima"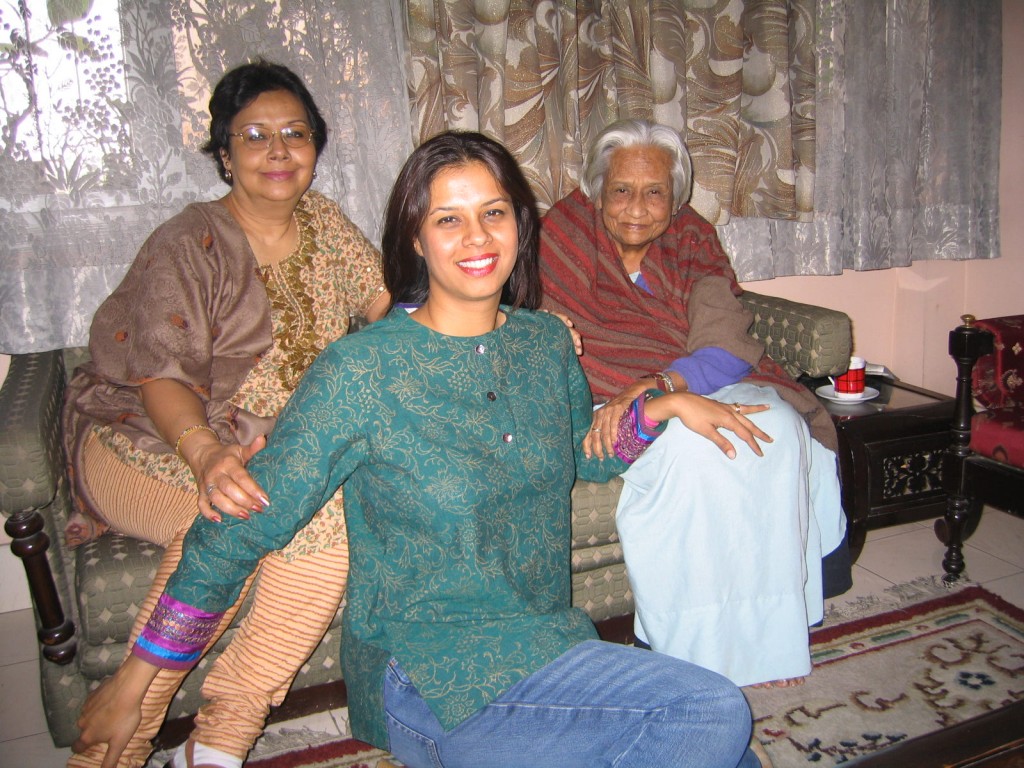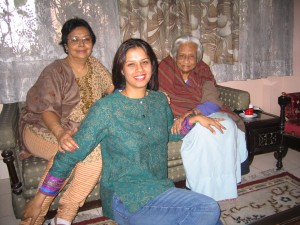 My grandmother – we called her "Didima," which is Bengali for "mother's mother" – was one of the most loving, exasperating, funny, pushy, omigod-I-could-pinch-your-cheek people I ever knew.
She got married at the age of 18 and lived most of her life as an Air Force officer's wife while also teaching and immersing herself in charitable works. She loved the military lifestyle; she didn't know how to take "no" for an answer; she was the one person I knew I could always turn to when no one else was around.
On the face of things, my grandfather was quite different. A good foot taller than Didima, he was the epitome of the strong, silent type. Rumor has it that, despite being madly in love with her, he proposed to my grandmother in writing because he was too shy to ask her in person (I think she said "yes").
The two of them had a marriage everyone envied. As they grew older, their bickering increased, yet it was always good-natured, and no one ever doubted their love for each other.
My grandfather passed away a few years after I moved to the US, and it devastated me that I couldn't go back to India for his funeral (I couldn't afford to). Didima, whose entire life had been invested in her husband and children, wasted away with no one to look after, until she too passed away in 2008. This time, however, I was able to go back to India (the last time I have been back since) and I can't even begin to describe the void I felt when stopping by her apartment was not even an option.
My father aka "Baba"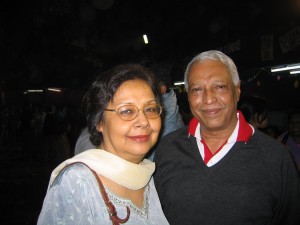 My father ("Baba" is the Bengali word for "father") is one of the most loving people I know, and who has lived his life, sometimes to the detriment of his career, for his children. His father, AMN Ghosh, was an eminent geologist and the first director of the Oil and Natural Gas Corporation of India. I still remember going with my husband to the Indian Museum in Kolkata and looking, in awe, at fossils that he discovered (and which are displayed there).
But my grandfather passed away when my dad was just 16, so I never knew him. And greying prematurely, perhaps that is one reason my dad was determined to always be there for his kids. Even if it meant his turning down promotions, better job offers … he did what he thought was best for his family, career be damned. He'd drop us to school, pick us up from school, watch over us, and try to guide us as best he could, even if we didn't fully appreciate it at the time.
When I made the decision to pursue graduate studies in the area of theater (more on that soon), I don't think anyone could have been more scared … and then more proud … than my father. In my second year of drama school, my father's work often brought him to New Delhi, which is where my school was located. And when he was in town, it became a ritual for him to pick me up after class and drive to India Gate for an ice cream. This would often be followed by a father-daughter dinner at a restaurant close to my school, after which he would dutifully deposit me into the hands of the "warden" of the girls' hostel (curfew was 10 pm).
Baba and Didima
My parents had a wonderful courtship that became unexpectedly tumultuous when his mother – who'd previously been fine with everything – suddenly decided to prevent their marriage by any means possible. I'm told she made this announcement while visiting my maternal grandparents' home, ostensibly to discuss wedding details. You can imagine what the reaction was. One minute they're eating bon-bons, the next their world has been turned upside down.
I'm told my father, upon hearing his mother's GP (grand pronouncement), told her she could (you know what) and then stormed out of his to-be-in-laws' home. Several hours later, he returned, with tears streaming down his face. Looking at Didima, he said, "Ma'am," (to their dying days he called my grandparents "Sir" and "Ma'am") "can you ever entrust your daughter to me now?" To which Didima replied, "Son, now I know I can entrust my daughter to you."
Through the years, Baba and Didima drove each other crazy … and loved each other dearly. When Didima needed to talk, Baba would listen. Of course, being an extremely forthright person, he would give her his honest opinion, which she sometimes didn't want to hear.
In many ways, he was more of a son to her than her own sons.
And in her twilight days, after my grandfather passed away, it was my father who would make the time to go across to her apartment and spend time with Didima. Up until the time she became catatonic, eventually wasting away and dying of a broken heart.
Priya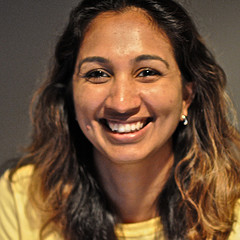 I've watched Priya grow and blossom (I know, I sound like an old woman) since first encountering her at an IABC/DC Metro meeting several years ago. What struck me most about her then was the sparkle in her eye; the refusal to be put down; the determination to learn; the conviction that she would be "someone."
Image: Geoff Livingston via Flickr, CC 2.0
And "someone" she is. Priya has come a long way from her early days and now, as Director, Social Media for CRT/tanaka, is a force to be reckoned with in our industry. But she still has the same sparkle in her eye when you see her; the same infectious smile when you talk to her; the same delightful zest for life, and whatever it might bring, as I recall from several years ago.
Love borne, begotten and blessed
So on this day – Priya's wedding day, Didima's birth anniversary, and a day before Father's Day – I wish many things.
I wish, in Didima's memory that, when overpowered by concern, we take a moment to pause and remind ourselves that excessive concern is borne out of excessive love. The love borne.
I wish, for Father's Day, that Baba knows just how much I – and my siblings – love and appreciate everything he has done for us. The love begotten.
I wish, for Priya, the love from her family-to-be that is hard to distinguish from that of one's own family. The love blessed.
And I wish you and yours the same.