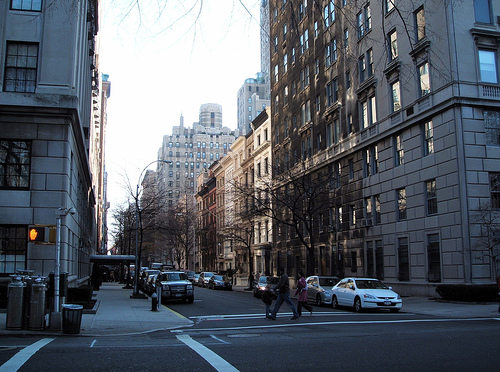 or, The Horror CrowdSourcing and Social Media has Unleashed on Madison Avenue
Guest post by Joe Witte
It's ironic that one of the most talked about shows on TV these days is Mad Men, a drama set in the 1960's following a bunch of sex-crazed advertising execs on Madison Avenue.
Image: buck82 via Flickr, CC 2.0
My first job, after attending the Army Officer's Basic Course, was at USA Networks in 1997. I was a peon Assistant Account Executive. I didn't really care for the industry. Lots of waste, very little ingenuity, but most of all, my job was boring and I was being paid less than $25k a year while trying to survive in Manhattan.
But back then, there was a air of confidence in the television world. Ad execs making $250k+, liquid lunches, million dollar parties, and the self-same ad agency execs being flown to Paris on a Concord for the French Open. And this was Cable TV.
Fast forward 14 years, and the media world is in absolute chaos.
CBS's Interactive Business Network (BNET) has been closely tracking ad agency layoffs. Right now, the death count is at 163,400 since the start of the recession.
This isn't just about lost revenue and respective trickle down, this is also about the departure of mass media and the arrival of social media and crowdsourcing. Both are wreaking havoc on Mad (middle) Men everywhere.
Fast Company's Danielle Sacks wrote an amazing article, "Mayhem on Madison Avenue." My favorite quote(s) come from Aaron Reitkopf, North American CEO of digital agency Profero, "There's never been a better time to be in advertising. And there's never been a worse time. Ooh, the carnage is going to be awesome."
Carnage; not a great way word to describe industry if you are a senior ad or marketing exec. Many of these advertising veterans are completely dumbfounded by the massive change in the industry.
A friend of mine, Doug Bard, a former Doubleclick colleague and current Web Marketing Consultant with Crexendo stated it best, "Social media allows companies to create, manage and distribute their own media in a way where they can connect one to one with customers, and potential customers. They can educate,  listen, and connect."
Bingo. Oh yeah, and it eliminates a TON of financial waste, and is far more interactive than passive TV or Print advertising. And, it eliminates the middle man.
So, what about the creative industry?
Thousands of small companies are using custom graphic design crowdsourcing sites like MycroBurst. Why wouldn't they? They can name their own price, get an average of 104 concepts for a design project by tapping in to a community of thousands, and thousands of designers, and be DONE in a week. It's unheard of.
And if you think this is just for small businesses, check this out … Kraft launched a $40,000 campaign on GeniusRocket and received seven (7) TV ads, all ready to roll, from talent located around the world. They loved them. This campaign was initiated by OgilvyOne Worldwide.
But how long until Kraft decides they don't need an agency to source their creative? Crowdsourcing also eliminates the middle man, the ad agency.
But crowdsourcing isn't just about design and video. Consider that the U.S. Navy, yes, one of the world's greatest bureaucracies (I can say that, I was in the Army, and the paper trails caused me more headaches than the battlefield) just launched a new "game",  called mmowgli, which stands for massively multiplayer online wargame leveraging the internet.
Huh? Well, the Office of Naval Research created a game where they can let the public develop strategies to assist in overcoming challenging battlefield scenarios.
Crowdsourcing for war. Mind blowing.
So, where does leave us? I think Seth Godin's book, "Linchpin," does a great job of guiding people to change the way we think about our "job." The future will be bright for people who make themselves indispensable, are forward thinking, self-educating, can identify problems, and come up with solutions. The "thinkers" will thrive. The "doers" will be thrust in a cloud of virtual competition.
As I reflect on the massive change happening worldwide in our industry, I can't help but think of Marlon Brando's historic line from Apocalypse Now, "Horror … Horror has a face … and you must make friends of horror."
Hello horror, nice to meet you, my name is Joe.

Joe Witte is the co-founder and EVP at MycroBurst. He formerly worked for USA Networks, DoubleClick and co-founded various businesses including Internet Travel Network and Logo Design Guru. He's a former Captain with the U.S. Army and Operation Iraqi Freedom veteran, who now enjoys spending time with his family, tennis and traveling.