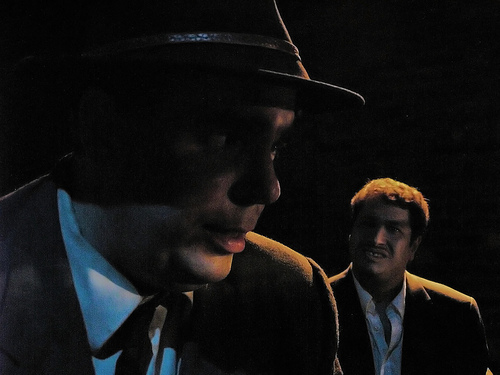 It was a dark night, the moon sullenly refusing to come out from behind the clouds.
As Ken walked along the path less traveled, his thoughts meandered from the rancid pizza that was no doubt waiting on his front stoop (Papa John knew him well), the less-than pleasant conversation he'd had with his ex that morning, and what life would be like on a desert island.
At first, the rustle in the bushes didn't catch his attention. Neither did the second. But the third – followed by a "clip clop clip clop" – did.
He stopped, whipping his head around. Silence and a blank landscape, littered with the remnants of dying dreams, greeted him.
Pulling his trenchcoat even tighter, Ken continued on his way. "Clip clop clip clop." There it was again!
Stop! Don't leave this page!
I haven't gone crazy; I was just trying to see if you were paying attention.
I'm not writing a detective novel … at least, not yet. I'm going to leave that to the likes of Brian Meeks (if you haven't already subscribed to his blog and started reading his wonderful Henry Wood Detective Agency, you really should).
But when I was working on pulling together a quick recap of last week's #measurePR Twitter chat, images of olde worlde PIs kept flashing through my head, so I decided to go with the free association thing for a bit.
Yea, I know.
Anyway, last week, if you remember, we chatted with Pierre-Loic Assayag, the head honcho of Traackr (which service I absolutely love), on what influence is, how bloggers and PR pros can determine who the right influencers are when they're preparing for a campaign, and much more.
There was a ton of good information shared, so rather than try to regurgitate it all, you can view (and download, if you want) the transcript from when Traackr met #measurePR.
I think next week's chat is going to be quite interesting; Megan Berry of Klout (and y'all know how vocal I've been about Klout) is going to join us. I applaud her on her courage, and I'd love you to join, with one caveat; Klout raises strong emotions in many of us. I'd like us all to remember that there are decent human beings behind all these services, and play nice.
That doesn't mean you can't ask hard questions; of course you can, and I'd love you to leave any questions you have for Megan on Klout below (with your Twitter handle, so that I can attribute correctly). The chat will be on June 21, 12-1 pm ET … and as usual, just log onto Twitter and follow the #measurePR hashtag to participate.
Image: geminicollisionworks via Flickr, CC 2.0
So. What do you want to know about Klout? Please share via a comment!