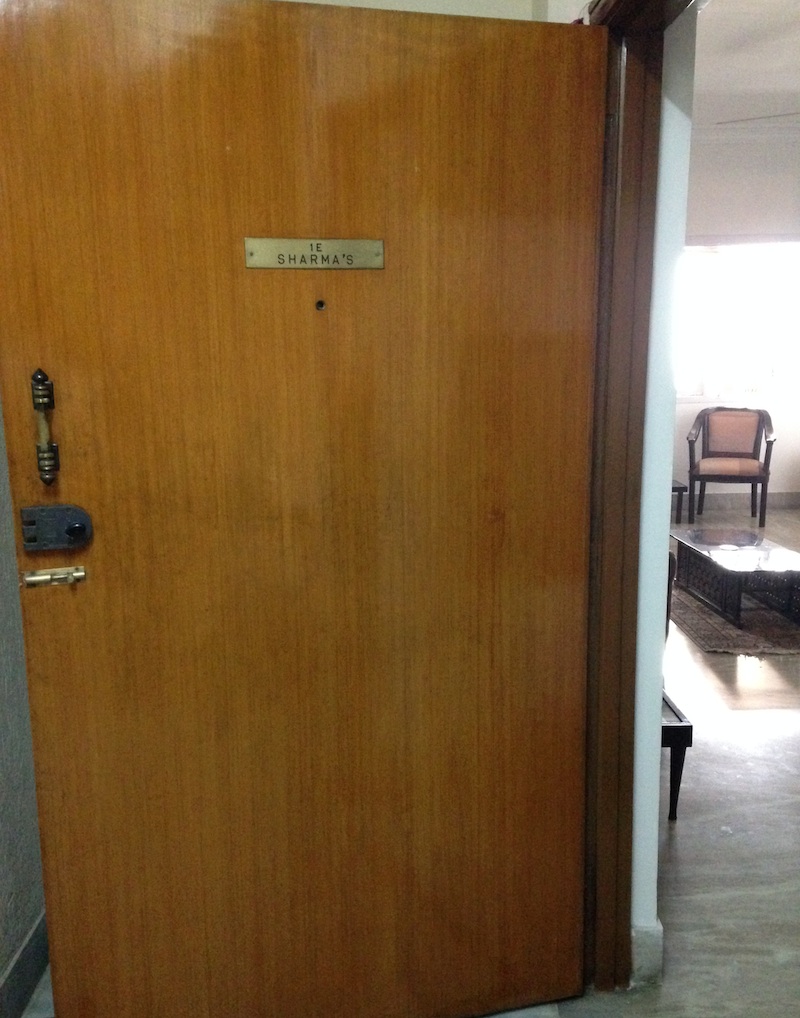 I've been in India for the past three weeks. Two weeks were vacation; this week and next I've been/am working remotely (which is actually going quite well now that I've gotten into my groove. I'll tell you more about that after I get back to the U.S. next week).
While I miss my husband and canines, the fun part of this "workation" (tons of photos on Instagram!) is that I'm getting to catch up with family and friends I haven't seen in years, in some cases almost two decades.
Along those lines, a couple of days ago I visited my best friend's Indian apartment (she and her husband work on several continents – no, that's not a typo – and also have a home in the U.K.) for the first time. That's their front door you see in the photo.
My first question, when she opened the door and welcomed me in, was, "Why is your nameplate on the inside of the door?"
She looked at me and said, "Because Mum would keep the door open all day."
Lest you wonder at the use of "would" in that past sentence, let me hasten to assure you that her mother – also someone very dear to me – is doing very well. She simply doesn't live in that apartment any more, but with one of her other children.
I was so struck by that. What a wonderful message to send to neighbors, friends, and strangers alike, who might be passing by, or whose eyes might alight on the open door.
"My door is always open to you, and by the way, this is our name."
To me it also speaks volumes of the trust Aunty (that's what we call older ladies in India, so I have about 7 million Aunties in Kolkata alone, isn't that great?) has in people. Because by leaving the door open, she was inviting people in, as opposed to shutting them out – even if she didn't know who they were – and trusting that they would do her family no harm.
Leaving the door open. Inviting people in. Trusting in that interaction to add value, if even by just a tiny amount, so that the sum of the whole will indeed be greater than the parts.
These are critical elements of effective communication in the digital age and what I call "social PR." What we can achieve when we design, create and manage motivated communities – who use technology and social media to make better connections with each other in pursuit of a shared goal – is so much greater than we could ever achieve through one-way communication, usually through "the media."
There's nothing new about this – community building is how societies have thrived across the millennia.
But with all the technology we have at hand today, we're in real danger of forgetting just why that technology is exciting in the first place. And no, it's not so that we can post selfies every 5 minutes on Facebook.
If you're not already thinking of how to socialize your PR programs and campaigns, please, give it a shot this year. You'll be amazed at what you achieve.
If you're already socializing your PR, I'd love to hear more about what you're doing, so would you share via a comment below, please? What's your version of leaving the door open all day?