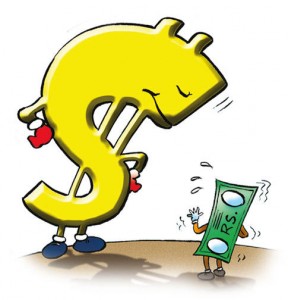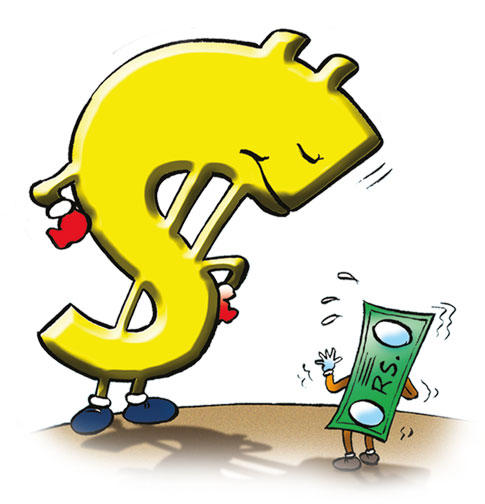 Ed: A version of this post originally ran on September 20, 2013 on Vikypedia.in. We republish it with minor edits and updates.
Sixty two! Yes, the rupee is 62 against the U.S. dollar (as of December 1, 2013). To us Indians, it looks like the dollar is on an escalator and the rupee is on a ventilator!
Image: Amit Kumar via Flickr, CC 3.0
The falling rupee has hit many Indians, and seems to have caught up with the Indian media in the past few months. Apart from the usual layoffs, cost reduction, and restructuring, we have seen newspapers and magazines getting thinner, TV stations cutting back on programming, and several publications and channels are on the block.
Due to tight marketing spends, even advertisers are shortening their commercials while maintaining or increasing the number of times they are aired, to ensure maximum spread for their ad spends.
Look at these examples to understand the changes that the Indian media industry has been going through in the past few months:
In May, NDTV Profit cut back on all non-market-hour programming, which meant the channel only needed a handful of anchors and reporters
In August, the TV 18 group laid off around 500 employees, including several of those responsible for its features programming
In July, Outlook Publishing (India) Pvt. Ltd discontinued the publication of three foreign titles, Marie Claire, Geo, and People""around 130 employees were laid off""and also converted its personal finance magazine from a fortnightly into a monthly
Business Standard sold its motoring magazine to Delhi Press
ABP Pvt. Ltd  has sold its business magazine – Businessworld to Anurag  Batra, owner of Exchange4media, and investor Vikram Jhunjhunwala for an undisclosed amount
Bloomberg India TV laid off 30-40 employees
HT Business  and HT Shine (supplements to the Hindustan Times) were discontinued and became a part of the main paper – the Hindustan Times
The Bengal Post paper in Kolkata was discontinued and all employees were laid off
In September, Mint announced that it would be reducing the number of pages, from 28 to 24, four days a week, Tuesdays through Fridays. The Monday and Saturday papers will remain unaffected.
It is rightly said that PR and journalism are interdependent. With the economic slowdown, we are starting to see traditional PR activities becoming slightly tougher as the rate at which newspapers/magazines are shutting down increases, their numbers of pages are reduced, and broadcast channels cut back on original programming.
With the ever-increasing competitive eco-system and never-ending client demands, traditional PR is set to face new challenges in India.
However, I believe that the PR agencies should take this as an opportunity rather than a challenge. With such alterations in the media industry, PR agencies have a window to get more creative and embrace newer avenues, such as social media platforms, more aggressively than before.
It's time for the next big leap in the way PR agencies work in India.
The current changes in the media industry should mean a faster move into the digital domain in the Indian marketplace. India now has nearly 74 million Internet users, according to a recent ComScore report. Several media houses have started looking at digital as their next step, sooner than expected. For example, Kasturi and Sons Ltd, publisher of The Hindu, has recently launched iPad and mobile apps for its general and financial newspapers.
In the past decade, there has been a steep decline in the number of those who prefer thumbing through the newspaper with their morning tea. Now, checking news feeds on smart phones, scrolling through one's Twitter handle, and checking updates on blogs, Facebook, LinkedIn, Google+ and other online networks have become part of the urban lifestyle.
Here are a couple of interesting statistics from the Internet and Mobile Association of India (IAMAI):
The size of the digital advertising market in the current fiscal year is estimated at Rs.2,260 crore (~

$364.5M)

 and is expected to touch Rs.2,938 crore

 (~$473.8M) 

by the end of 2014
Ad spending on social media has shot up from Rs.94 crore (~

$15.1M)

 in FY 2012 to Rs.300 crore

 (~$48.3M) 

in FY 2013
Also, media buyers estimate that video advertising on the Internet has been growing at a rapid 40% over the past year and is expected to speed up further to 60% in the next few months.
With this shift in the media landscape to digital platforms, digital PR needs to catch up to the trend.
Pitching journalists via phone calls, e-mails, and SMS' are not the only ways of securing media coverage anymore. Holding events both online and offline is now part of media management. Debates/discussions on Google+ Hangouts, and live chats on Facebook or Twitter have become new promotional trends.
What will be interesting to see in the coming months is how many brands are really willing to jump on the digital bandwagon and allocate proper marketing funds to it. Today, simply getting a news release online is of not much value to Indian clients as opposed to a good spread of print coverage. However, with the changing media landscape, it will be fascinating to see if clients start to value online promotional mediums as much as they value the print medium.
What are your thoughts on the Indian PR digital evolution? I find it fascinating, but I want to hear what you think!