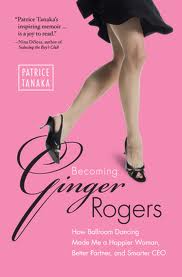 Since this season is all about giving (which we really should be doing all year long, but I won't start preaching to you about that) I thought today I would give you 12 "gift" ideas, one for each day leading up to Christmas Eve.
If you pass just one of them on each day to someone – either the actual "thing" or idea – then we'll have this lovely long chain of giving. And wouldn't that be cool?
So here are the 12 days of Waxing UnLyrical, which would make great gifts for PR pros (and others too!):
Books that will round you out:
1. Optimize, by Lee Odden. I waxed lyrical about Lee's book last year, and it is really one of the best business books you can buy, either for yourself or as a gift (or both!). Content is at the core of what we do, and understanding how to optimize it – and our work – is central to success.
2. Age of Context, by Robert Scoble & Shel Israel (clients). Now I'm not saying this because Robert and Shel are my clients (and friends). I suggest you purchase the book – whether the Kindle or paper edition – because it will really make you think about your relationship with technology, and the privacy implications thereof. It's an elegant and quick read (and you know me, I don't WUL about a ton of business books).
3. Becoming Ginger Rogers by Patrice Tanaka. Patrice is the petite PR powerhouse behind the agency formerly known as CRT/tanaka, now Padilla/CRT. What you may not know about her is that she is also a ballroom dancing champion. This entrancing book details the story of how dancing made her not just a better person but a better businesswoman as well. Patrice (disclosure: she has become a dear friend and mentor) gave it to me a few months ago, and I finished it at one go; not just because I love to dance, but because it was such a great and inspiring read. You must read this book.
People who will lift you:
4. Steve Woodruff. I've known Steve for some years, when our paths first crossed thanks to social media. I was always touched and impressed by how open he is about his battle with and recovery from depression, because that's a tough disease to talk about. As I've been getting to know him better, I've continued to be impressed by his efforts to help people find their fit. If the only thing you do is subscribe to his newsletter, you will be a better person for it.
5. Ken Jacobs. Ken is another friend I originally met on social, and he is one of the most delightful human beings around – warm, approachable and so kind. Ken's business helps public relations and communication firms grow their businesses… and who couldn't use help with that, right? Get to know him; you'll be glad you did.
6. Shasta Nelson of GirlfriendCircles.com. My friend Crister DelaCruz introduced me to her friend Shasta (see a theme here?) when I mentioned that I was looking for a business coach. I love Shasta's approach to relationship-building through GFC, and her blog is a terrific read, like this recent post on forgiveness. You should get to know her.
Events that will inspire you:


7. The 2014 SoloPR Summit that is the brainchild of Kellye Crane, another social connection who has become a dear friend. I wasn't able to attend in 2013, but I heard rave reviews. When Kellye asked me to speak at the 2014 event, I jumped at the chance. This conference features an incredible lineup of speakers at a really affordable price. And Atlanta in February (Feb. 19 & 20) will be really nice!
8. xPotomac 2014 (Feb. 28), which Geoff Livingston, Patrick Ashamalla and I are producing. Robert Scoble and Shel Israel (see disclosure above) are the opening keynotes… that is HUGE! Jim Long is the closing keynote… that is HUGE! And so are all the other speakers. We're offering early birds a 30% discount on ticket prices (use the code EARLYBIRD and register before December 31), and like SPS, this is a super lineup at a really affordable price point.
9. C2: the ColorComm Conference, which is billed as "defining the future" for women of color in Communication. I've been on the ColorComm Board of Advisors since last year, and it is a truly remarkable group, founded and led by the extremely driven Lauren Wesley Wilson. The speaker lineup is pretty impressive, and if you fancy Miami in August (Aug. 6-8), now would be the time to book both the conference and the hotel.
Random delights: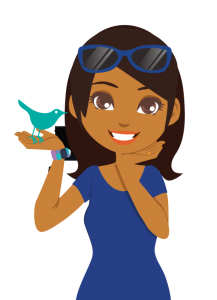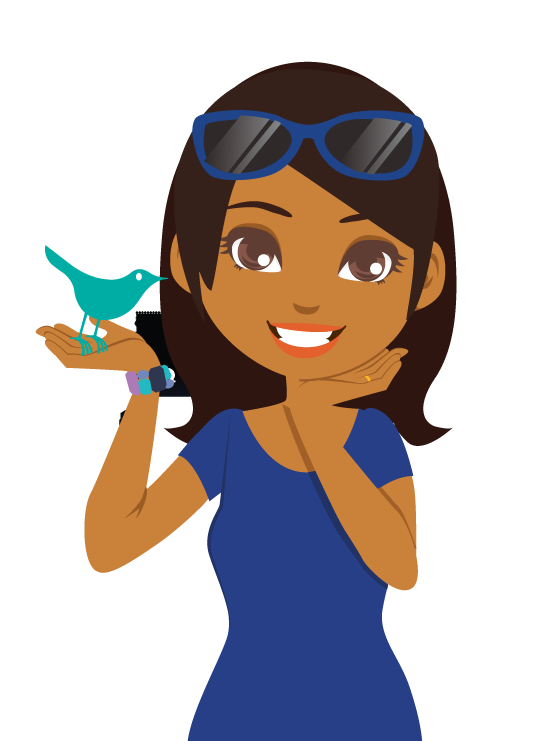 10. The solar dancing flower. Just look at it. How could that not put a smile on your face? I have one on my desk and I love it.
11. Traackr's The Engagers: 2013 Edition. Not only is this a terrific e-magazine of 16 interviews with some of "Earth's Mightiest Marketers" (somehow I got mixed up with that bunch, whaaaaa???) on influence and engagement, it's a calendar too! How cool is that?! If you download the mag you'll get the official calendar too, and you know you want to see me as Ms. September. Right?
12. A Little Birdie Told Me… what? Well, that's what you'll find out if you subscribe to the newsletter I'm launching very, very soon! And if the cartoonized Me isn't enough to make you giggle, I don't know what is.
By the way, my terrific designer, Sara Theisen, and I need to come up with a name for her, because we can't keep calling her "Cartoon Shonali." Any ideas?
Have a super weekend, and I hope I've given you some unusual gift ideas… for yourself, a friend or colleague, or simply to pass along. What would you add to the list?