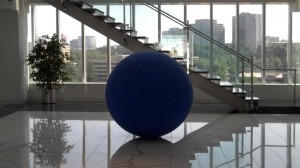 Earlier today I presented at the 2010 Digital Media Conference, put on by PotomacTechWire and DigitalMediaWire.
My panel focused on "Twitter and the Media," and included luminaries such as Rohit Bhargava, Jodi Gersh, Kevin Dando and Chris McGill. If ever a panel made me feel smart…
It was a fun afternoon, for which I prepared by downing copious amounts of the delicious tomato/basil soup on hand. And I hope those who attended got something out of it too.
For me, it was great not just to meet/reconnect with my fellow panelists, but to see folks like Mike Smith, Liz Shea, Ashley Houghton and Stephanie Wonderlick.
We talked, as you might imagine, about various aspects of Twitter. And while I enjoyed all the comments, something Chris said particularly struck home:
Twitter is for everyone… even if all you do is use it to listen.
If you think about it, that's really true. You can use it to gather intelligence, keep on top of your brand… and you don't have to be an active user to do that.
Now, if you're consider Twitter as a marketing tool, then yes, you have to really dive in and not just listen but engage, converse, yada yada yada.
And all that is stuff I say all the time.
But if you're not ready to do all that, at the very least you can use it to listen.
I do think you should be smart about the social platforms you decide to use, and that's what yesterday's webinar/post was about.
If you don't know what your goals are, you're going to have a tough time figuring out how to reach them.
But if you're just getting started… why not just listen for a while?
You might be surprised by what you hear.
The Blue Ball
After the panel was over, the beauteous Jodi (and she really is beauteous) gave me a personal tour of Gannett and USA Today's properties in NoVa. Here's the famous "blue ball:"
Happy weekend!