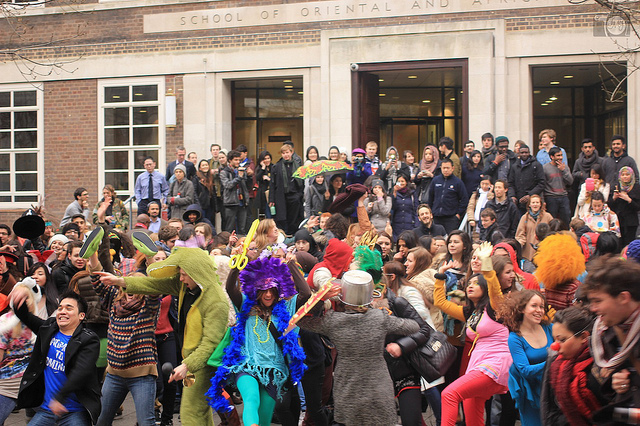 Disclaimer: Pic-n-Post is a client of RedShift Writers.
Hello, WUL readers! Remember me? I used to write here all the time. Then I started my own business, wrote about what was going on with it in my first six weeks, helped a B2C pet product get off the ground and dove headfirst into the world of entrepreneurship. It's been a heck of a ride!
Image: mayeesherr. (in West Bengal!) via Flickr, CC 2.0
Fortunately, I've had a good enough experience so far to keep my head on straight and continually share what I have learned. In the realm of marketing, learning is the name of the game no matter what your goal is.
Today's lesson is user-generated content 101 and five reasons why the future belongs to the users. Here they are:
1. Harlem Shake vs. Gangnam Style
Gangnam Style and the Harlem Shake make up two-thirds of the triumvirate of ultimate online mainstream music-based video sensations (with Blurred Lines completing the podium). The two sensations peaked roughly four months from one another on extremely similar arcs, but the similarities end there.
Gangnam Style was a concentrated publicity effort based on the work of Psy and his PR team. The Harlem Shake dance video craze largely took off based on the whims of students, employees and other everyday folk interested in making a funny viral video.
So which one garnered more interest according to Google trends? It's a landslide: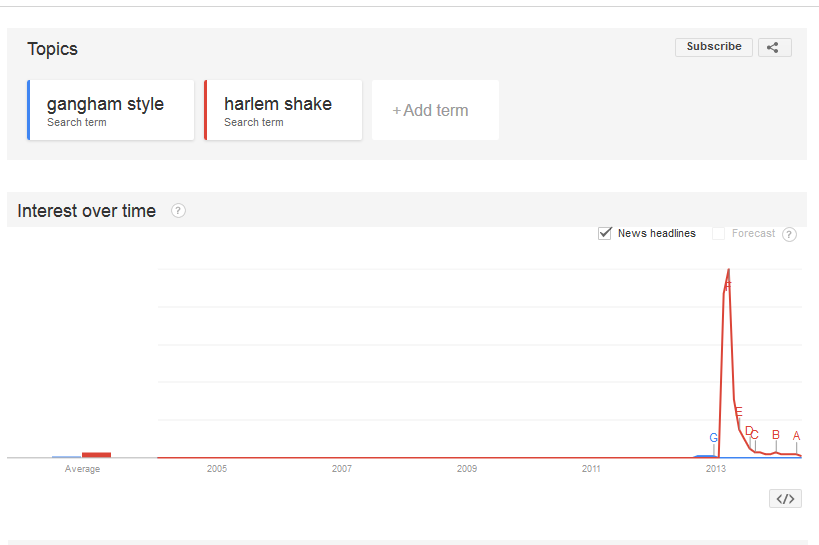 Community creates results. The Harlem Shake depended on community. User-generated content is far better at creating that community.
2. Rise of the social photobooth and video jukebox
Live event social media generally involves a social media person or standard event-goer using a mobile device to put content online. Now, there are all kinds of devices that allow individuals to put pictures up without having to make comments or even bring up their own social networks.
Pic-N-Post, for example, is a social photobooth that allows users to take their own photos and upload them to the event, brand sponsor or organizer's Facebook page with effects almost instantaneously. Pic-N-Post has already revolutionized weddings and parties; now, it's changing the game for hotels, convention centers, special events, restaurants, and more.
Similarly, an app called Hurl now allows users to put YouTube videos in a queue in similar establishments by transforming screens into interactive jukeboxes capable of both user-created experiences (such as videos) and experiences spurred by the brand (established advertisements).
3. Holistic media and commerce
Long ago, before the rise of e-commerce, the question of how to reach users was more difficult because of the barriers to access. The difficulty now is determining which channels customers are on. To make up for that, brands have begun engaging with customers in ways that personalize their experience and tailor how they shop as well as what they do to improve engagement and understanding between customer and brand.
Holistic commerce and media involve opening the door to gamification and meeting the customer halfway in their environment, including on social media, mobile devices, through beacon technologies while in store, at kiosks, and more. Retail companies the world over are taking to holistic commerce and everything it brings to the table. Other industries should take note immediately.
4. Customer feedback system and process sophistication
Customer feedback was once easier to sidestep. While customers have always held the dollars that controlled your company, the last decade has brought far greater control into the hands of consumers than ever before. Business processes have not only been made more customer-centric (as previously mentioned), but even customer-driven.
Starbucks' green swizzle-stick stopper was a result of customer feedback. Customers improved the experience for other customers. To Starbuck's credit, they fostered and implemented the idea, but the users get the credit for generating it. Culture and systems such as these will greatly enhance the content produced and inspire users to contribute. Expect the future to bring more of this kind of involvement.
5. Gamification
Gamification is still a bit of a loose concept, in spite of the various coupon plays, discount systems, loyalty programs, punch cards, check-ins, mobile technology and other factors playing into new ways for brands to interact. Red Bull's events, including the famous Flugtag and Crashed Ice, have literally transformed brand material into live action. Creating a sport around your brand may be the most sophisticated gamification on the planet.
On the other hand, brands the world over are leveraging more tech-based gamification methods, such as mobile devices and social media, for the betterment of their market position and general reputation with customers and potential customers. When consumers become involved in games associated with companies, they become part of the company story. Their interaction is content of the highest order.
Have you seen the effects of user-generated content first hand? Please share in the comments below.