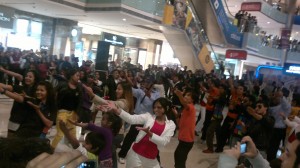 What the iPhone is to smart phones, flash mobs are to marketing.
As organizations all over the globe try to use smart moves to attract and retain customers, the recent and ongoing turbulence in the global economy has only intensified this need.
While a slew of such campaigns have taken place in India, one that caught the fancy of many is the recent flash mob organized by the IBM OnDemand Community.
If numbers could speak, 19,000 views (and counting) for this YouTube video (on YouTube) is pretty impressive:
It is interesting to see how companies – both large and small – are taking the social route to engage audience.
Keeping the IBM flash mob in square focus, while IBM was one of the first technology firms to champion the idea in India, using social media (Twitter) has only helped to further the reach of this effort.
Here's another example: a flash mob was organized "just for fun" towards the end of 2011, where nearly 200 people in Mumbai pulled off a four-minute jig at Chhatrapati Shivaji Terminus (where the terror attacks of 2008 began).
And in New Delhi, around 50 Delhiites took the city by surprise with a similar tactic. While there were 200 people who participated, there were over 2,500 views online on YouTube.
Flash mobs have a way of engaging the audience. So CMOs globally (and in India) are taking flash mobs to social platforms to give them a new lease of life.
As you can see from these examples, the reach of such activities without the use of Twitter and YouTube would not be as high.
While the key is to use flash mobs to garner attention from the onlookers, social media helps to improve their repeat audience as well as capture fresh eyeballs for the gig.
Over and above that, 19,000 views (going back to the IBM video) also helps the CMO prove a great viral impact to its internal stakeholders – particularly when it only took 75 IBMers to make it happen!
While IBM India pulled together a great show, there were aspects of the event that deserved more attention, particularly on Twitter. While tweets by the IBM team reached  a lot of folks on Twitter, the company did poorly when it came to the related hashtag (#IBMFlashMob) trending.
Given the number of employees IBM has in the country, it shouldn't have been very challenging to bring them together and make the hashtag trend, so that it reached a larger number of Twitter users.
That said, IBM has been one of the tech giants to take a step forward and try to be different in its approach to reach out to the audience.
Do you think others are going to follow suit? Do share your thoughts in the comments.