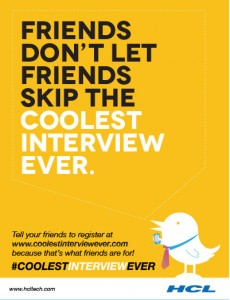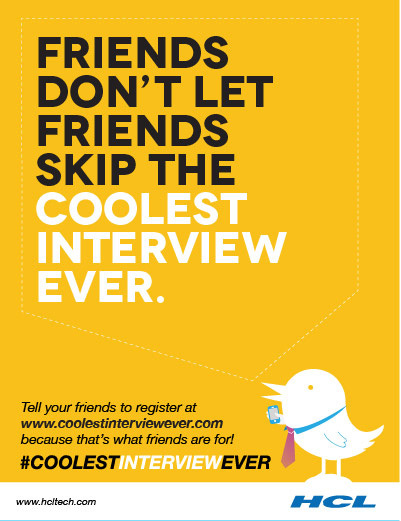 Disclosure: HCL is a client of my agency, Six Degrees PR. However, the campaign partners are ITSA Brand Solutions and FrogIdeas. I thought this was an interesting campaign, and wanted to share my thoughts with WUL readers.
Have you ever been to an interview where you don't have to speak at all, yet are expected to answer whatever the interviewer asks?
Sounds weird? Think again. Because India has been buzzing over the #CoolestInterviewEver, where one of the country's largest companies wanted you to be "cool" enough to work for them.
Recently HCL Technologies (NSE: HCLTECH), India's fourth largest software services firm, started a global recruitment campaign on Twitter. Here's how they said it would work:
Respond to questions on Twitter: Over a two-week period, participants were to respond to various questions posted on Twitter (this round closed on Feb. 21, btw). One hundred would be selected to participate in the next round, which was …
A two-day TweetChat: this would be held with with HCL Technologies' HR and Recruitment Office, where participants would be asked (and could also ask) further questions related to their areas of interest.
For the final round, five candidates from the semifinal round were to be selected to visit their nearest HCL office, and answer the final round of questions 

on Twitter.
In the third and final week (that's this week), the company will select a winning candidate for one of the "cool" job profiles featured on the site. The winner will also receive a US $75,000 prize and have access to an HCL leadership mentor in his or her particular field.
The buzz that shook the IT industry
The initial buzz started through videos and banners. As of this writing, the promo video has more than 74,000 views.
According to Campaign India, as of Feb. 17 the campaign had received more than 110,000 replies, tweets, re-tweets and favorites.
#CoolestInterviewEver trended in India on February 18th (Tuesday), 21st February (Friday) and 24th February (Monday) for more than 12 hours.  

It has been interesting to observe a big brand experimenting with a different recruitment strategy altogether. HCL and its agencies have gained a lot of attention for this campaign, and many Indian online influencers have been talking about it. As a Millennial in the workforce, I'm probably not alone in hoping that many other IT/Non-IT companies will soon follow suit, and start to look for – and hopefully, find – new talent through social media platforms.
But… how authentic is social media recruitment?
When I first heard about this campaign, I felt it was the most innovative recruitment campaign ever. After all, it takes a lot for a big company to invest in a campaign like this. However, I had a few questions about the authenticity of getting to the final round.
If all the preliminary – and even second-round – interviewing was on Twitter, I could get someone to help me with the answers, couldn't I? After all… who would know? So technically at least, I'd be able to make it through at least the first two rounds, right?
I remember the days my parents would tell me how important it was to look smart and confident at a job interview, how important that "first impression" was on the interviewer. But in this situation, it really wouldn't have mattered whether I'd showered or not, or had messy hair, or food stuck in between my teeth. In this instance, if I were "cool" enough, then I'd be able to crack the interview from the pool, or from bed, or the couch… right?
While there's been a lot of buzz around the campaign, it's also been noted that:
A reliable source mentioned that "more than 80% of the participants for #CoolestInterviewEver were either very irregular Twitter users, or created accounts simply to participate in the campaign" 

The requisite spoof page goes by "Coolestintervieweeever" (it's funny, but not that funny)
Online meeting offline
Perhaps crisp, to the point, and quick communications are now the "first impressions" we should be concerned about. And while it remains to be seen if/how the winner (and even the finalists) lived up to their online "conversation," kudos to HCL for an initiative that will hopefully help job seekers  understand how to communicate well via today's social platforms and stay ahead in the competitive landscape.
Do you think that a 140-character tweet can land you your dream job in the near future? Will digital interviews replace the traditional method of one-on-one interviews? I'd love to hear your thoughts in the comment below.