Heads up: I ramble quite a bit through this post, so if you're hell-bent on reading it, you might want to settle in with a cup of hot cocoa. On the plus side, there are some pretty pictures involved. Having said that, read on!
It's two days until Christmas Day (which we do celebrate). Though I still have a lot of festive "stuff" to do, I'm not feeling as manic as I was yesterday.
That's because I finally got our Christmas holiday cards out yesterday. And they all arrived the same day; because I used Plaxo (of which I'm a premium member, and I have to thank John McCrea for responding almost immediately via Twitter to an issue I had yesterday, which was resolved in record time) to send out customized cards to our family and friends.
Remember When…
I can remember the time when December 22nd would have been unthinkable as an acceptable time frame for a holiday "mailing." In fact, it wasn't that long ago that we'd do the holiday card thing the traditional way: via snail mail.
It was certainly fun to design our cards and get them printed (we'd use Ofoto, which is now Kodak Gallery) to order our cards. Then write in each of them (which I think is a must-do if you're going the traditional route, otherwise it's like sending a bcc email to people) while trying to avoid carpal tunnel, embark on the inevitable trudge to the post office, buy a gazillion stamps, and get 'em in the mail. And hope they'd actually arrive in time.
Since we don't have kids but are "pet parents,"our cards would feature our pets; more specifically, one of our pets – the basset hound, Hank. It's not that we don't love our other dogs, but bassets just seem to be made to be cover dogs. Hank died very tragically last year, so 2007 was the last time we actually had a "real" holiday card:
We did adopt another basset, Lola, and I guess were ready to bring back the basset holiday card this year. However, also this year, life "stuff" happened, and it also seemed a good idea to curtail at least some non-essential spending (yes, it's that whole economy thing).
So all our cards this year are e-cards (we'd started bringing an e-version of our cards into the mix a few years ago, but went 100% electronic this year).
To Mail or Not To Mail?
I was curious as to how my friends and Tweeps were approaching the holidays, so I sent out a Twtpoll asking whether they were doing holiday greetings the traditional way or not:

Quite honestly, I expected most of them to say they were going online. But out of the 38 responses to the poll (not to mention a couple of responses on Facebook), the majority WERE going with traditional cards. Here are some of the responses and reasons: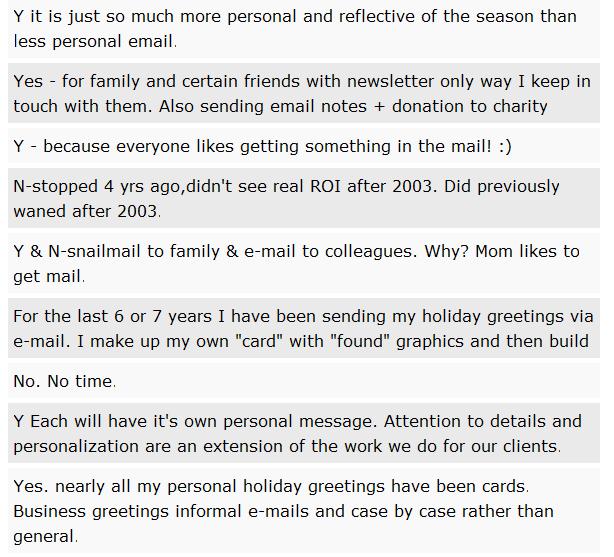 Relationships Rule

You can read all the responses if you click through to the poll. I found it rather heartwarming that in this age of technology, when we have a tendency to bemoan anything that's not at the speed of mouse, a great many people choose to stick with tradition.
Admittedly, this was not a scientific poll, but I did think it revealed a lot about the importance people attach to relationships and their thoughtfulness about what the recipients would prefer… as well as the fact that many of them made a conscious decision to incur the expense involved in sending traditional cards, which is no small potatoes if you have a large family and extensive business or social networks (I don't know if that's going to save the US Postal Service, but that's another post… or several).
Taking this a step further, this is really good public relations on a micro level, if you think about it. Knowing your audience, how it likes to be communicated with, and then sending the communications that will appeal to them.
What About ROI?
I thought the comment about "ROI" was interesting. How do you measure the ROI of holiday greetings? By how many responses you get to your cards, or cards you receive in return? By how many of the recipients become clients, or brand evangelists? By how much pleasure you derive from them?
From my point of view, I don't have a quantifiable objective to my holiday greetings – I know, that sounds like heresy coming from an avowed measurement fanatic! I want my friends and colleagues to know I hold the relationships I have with them in high esteem.
So my goal, when I send out greetings, is to do just that – maintain my relationship with treasured friends or business contacts, and move those relationships that are at the acquaintance level up a step or two. It's one stage in the constant (hopefully mostly upward) spiral of relationships.
And that, in my opinion, is what public relations needs to do, and be. Because business is all – ALL – about relationships.
Which brings me to you.
Even though I might not actually "know" some of you reading this post right now, we do have the beginnings of a relationship by virtue of the fact that you're reading this. So I hope you'll enjoy our 2009 holiday greeting, featuring Lola, the Burke Basset during "Snowmageddon" 2009.
Thank you for stopping by, and I'm looking forward to getting to know you better in 2010. Happy holidays!
And before I forget: what do you think about holiday cards, relationships and ROI? I really do want to know what you think about that, so please do share your thoughts in the comments section.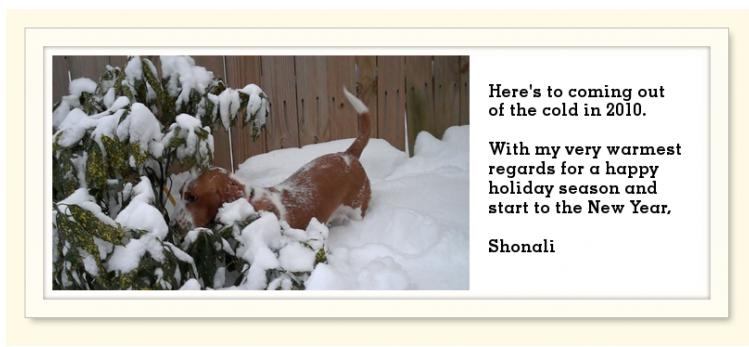 The beautiful image of a vintage Christmas card at the beginning of my post is from karen horton's Flickrstream.