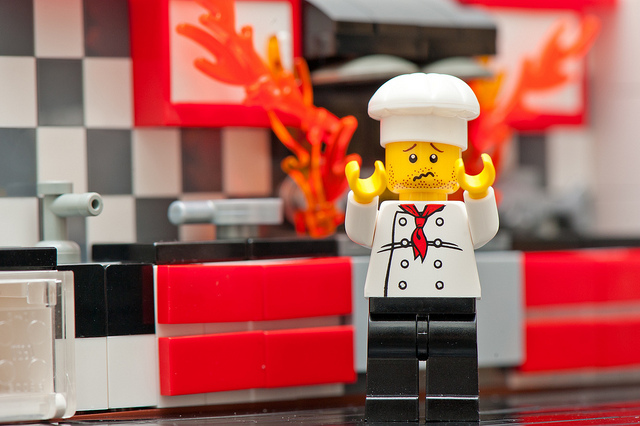 This isn't a trick question.
But really, how many blogs does a gal need?

After all, from a practicality point of view, the answer to that question should be one, right?
Apparently, 'tis not the case with me.
If you and I talk regularly on Twitter, or Facebook… heck, even in the early days of WUL (and I have to stifle a giggle as I say that, because this blog is barely two years old!), you'll know that I love food.
Image: kennymatic via Flickr, CC 2.0
Love eating it.

Love talking about it.

Love cooking it.

Love taking photos of it.
So it's probably high time that I started a food blog.
That way all the PR and social media goodness can stay here, and all the culinary cool can stay there.
Everything in it's place. Nice and neat.
Plus, I'll have a place to store and share my recipes, cool recipes I find, cool stuff I like.
Too much cool!
It will be interesting to see how it goes, since Spicing Out (cool title, eh?) is more a labor of love than anything else.
On Waxing UnLyrical, my regular bloggers and I take blogging about the business of public relations, in all its facets, very seriously.
On Spicing Out, I'm just going to have fun.
I'm not going to stress about posting every day, I'm not going to worry about rankings (at least for a while)… I'm just going to have fun with food.
What has been really interesting about the last few days, though, is the process through which Spicing Out came into being.
This past Saturday, I was looking at Lindsay Allen's and Gini Dietrich's food blogs respectively.
We often share food photos on Facebook, and every time someone asks me for a recipe, I have nowhere to post it.
So on Saturday afternoon, I posted a random query on Twitter and Facebook, asking what a good name for a food blog would be.
Let me tell you, there is no shortage of creativity around… at least not in my networks.
There were so many people who came up with ideas that I'm not going to list any one person, since I'll forget someone – but they really helped me get the juices flowing [sic].
Though I must, must call out Brian Meeks who was convinced "NomNomNom" would be perfect, or any permutation thereof.
Alas, the domain was already registered, and I wanted my own domain.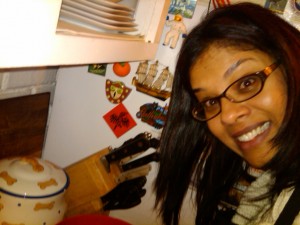 So after much Twitter- and Facebook-storming, I settled on "Spicing Out."
I registered the domain and immediately got excited, envisioning the coolest food and cooking blog evah!
With images of spices spilling out of the header!
With luscious ladles and aromatic herbs that would make you want to eat the blog!
Of course, there's no way I'd get to that from here… immediately.
So a couple of days ago, I put my dreams of a dazzlingly-designed blog ruefully to rest – a snazzy design would cost more than I can afford right now – and decided to see if the advice I've been doling out so wantonly in the Blogging for Grasshoppers series was any good.
You know what?
It actually is.
I used a free theme – the Producer – after looking around for a few different options.
It's a little bit different from Waxing UnLyrical, in that it has a sidebar either side of the main content area, and so many configuration options that my head is spinning.
I set up Feedburner, Google Analytics and the plugins that I've found really useful to start with: Sexy Bookmarks and TinyMCE Advanced among them.
I set up Livefyre as the comment system ('cos it's AWESOME and has cut down spam to such an extent on WUL that I don't think I'll even need to install Akismet on SO).
I set up Platinum SEO (instead of All in One SEO, I like Platinum better) and even WPTouch so that it can be viewed on a mobile device.
(By the way, I did that for WUL this past weekend too, so you should find it much easier to read on your smart phone.)
I set up a basic blogroll, a Twitter widget, a short "About" page as well as a "© and Stuff" page.
And then I wrote my first post a couple of days ago… after all, it had to be announced in some way, didn't it?
What's not happening just yet
Technorati hasn't "approved" it yet, but judging by Ingrid Abboud's experience, that may take a while.
It's not full of bells and whistles yet, but I don't need it to be.
There's stuff in the back-end I still need to figure out, but I'll get there.
But the main thing was that it took me only about four hours to do all of the above (other than registering the domain, which I did over the weekend).
In retrospect, I spent way too much time agonizing over how the blog would look.
If I hadn't faffed around with that, it would only have taken me a couple of hours to get it to this point.
If it takes off, there will be time enough for a re-design.
But for now, it's up, it's working… and it's mine.
And in honor of my parents' wedding anniversary today, here's the first, fishy recipe.
If you're into food as much as I am, I sure would appreciate you checking it out and maybe even subscribing.
What's the moral of the story?
Don't agonize too much over starting your blog.
It won't be perfect when you start.
It may look a little bare after other blogs you're used to… especially if you've been publishing another blog for a while.
You don't have to get it just so right away.
What's important is that you start.
So to everyone who's been waffling about getting your blog started… I did mine in just a few hours.
What's your excuse now?
And many, many thanks to everyone who helped me out, from thinking of a name, to encouraging me to get going.
I really couldn't have done it without you.