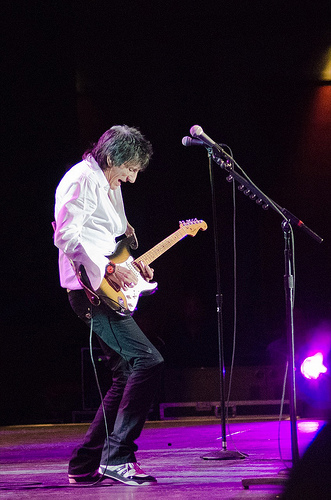 On Saturday, my husband and I drove up to Atlantic City, NJ, to see Ronnie Wood in concert.
"Ronnie" is my husband's favorite Stone, and when he heard that he was appearing at the Golden Nugget in AC, there was no holding back. (Btw, it's early days yet, since the casino's official opening is this week, but it's really nice… even if you don't gamble, which I don't).
I wasn't looking forward to the four hour-ish drive (one way) after my first week at a new job, having traveled across the country both of the preceding weeks, and more travel coming up this week and next… but one's Better Half is one's Better Half.
So off we went.
You're going to laugh now, because I had a blast at the concert.
We've seen the Stones before, but in huge venues. This was quite different; it was much more intimate, and seeing as how we had fifth-row seats, we felt like we were on stage. Ronnie looked, and sounded great, as did the rest of the band, and Bernard Fowler was TOTALLY hawt.
What was really interesting was to watch the "Ronnie-heads" (I don't know if that's what they're called, but that's what I'm calling them) in action.
They were out in full force.
The room was swimming in Rolling Stones, Ronnie Wood, and Faces t-shirts; I lost count of the number of men I saw in derbies adorned with buttons; bleached blondes in sequins, spangles, boas and leopard-print trousers, sometimes all at once… it was quite fantastical.
I saw tons of people greeting each other … to the extent it could have been a 50th high school reunion.
But it just didn't seem logical that all of them would know each other.
So I asked my husband about it, and it turns out there's a Rolling Stones-related message board called Shidoobee, which hardcore Stones fans (yes, B.H. is one) frequent.
Through Shidoobee, these fans hear about shows, sometimes before they're announced (as B.H. did), and get to know each other virtually.
So when they do all get tickets to a show, they are indeed meeting up with a gazillion friends… just friends they haven't met IRL yet.
Huh. Sounds familiar, doesn't it?
It was pretty cool to see that happening.
But more than that, what it reminded me of was the fact that we who choose our tribes, our flocks, our schools of fish, sometimes forget that we're just one of many.
A flock of starlings is quite happy on its own, but introduce a cuckoo or two into the mix, and they're probably not going to sit down and break bread (or, more likely, worms) together… at least, not immediately.
They're more apt to retreat into corners, and whisper about each other, with raised eyebrows (if birds have eyebrows), right?
And as I watched the Shidoobee-ites and Ronnie-heads in action, it reminded me that we in the social media world can get a little insular sometimes.
We are so taken with everything we're playing with and learning, we start to think everyone's like us.
And when we meet people not of "our" world, we're not quite sure how to behave with them… if we even acknowledge that they might not be as consumed with new media as we are.
I've seen plenty of instances where we simply don't bother with people who are "not like us." And that's not nice.
And that's the one thing that I didn't see at the show; while many of the people there knew each other from Shidoobee or something similar (I imagine), the last thing they were was insular.
There was a general atmosphere of camaraderie and friendliness.
I'm not sure that if the tables were turned, and the Ronnie-heads showed up a BlogWorld or similar SM event, they would be treated in quite the same friendly way.
As a tribe, we could all do with going out of our comfort zone a bit. That's a lesson I've learned before, but it was really brought home to me this weekend.
So how about we commit to traveling a bit out of our bubbles?
Perhaps we'll even meet in Shidoobee-land.