You know what's awesome about a digital event? Doing it live from a REAL event!
As you might remember, last week I moderated the June #measurePR Twitter chat live from the AMEC International Summit in London. The international panel of guests included:
If I'm being honest (shades of Simon Cowell), it was a little bizarre. Digital events by their nature are really frenetic online, yet can feel absolutely sloth-like offline.
I mean, picture a room full (ok, half full) of people all focused on their smart devices, occasionally looking up at the screen to view the live stream. Conversation is minimal, barring the moderator randomly talking to herself; people could be inside a subway car, they're so quiet.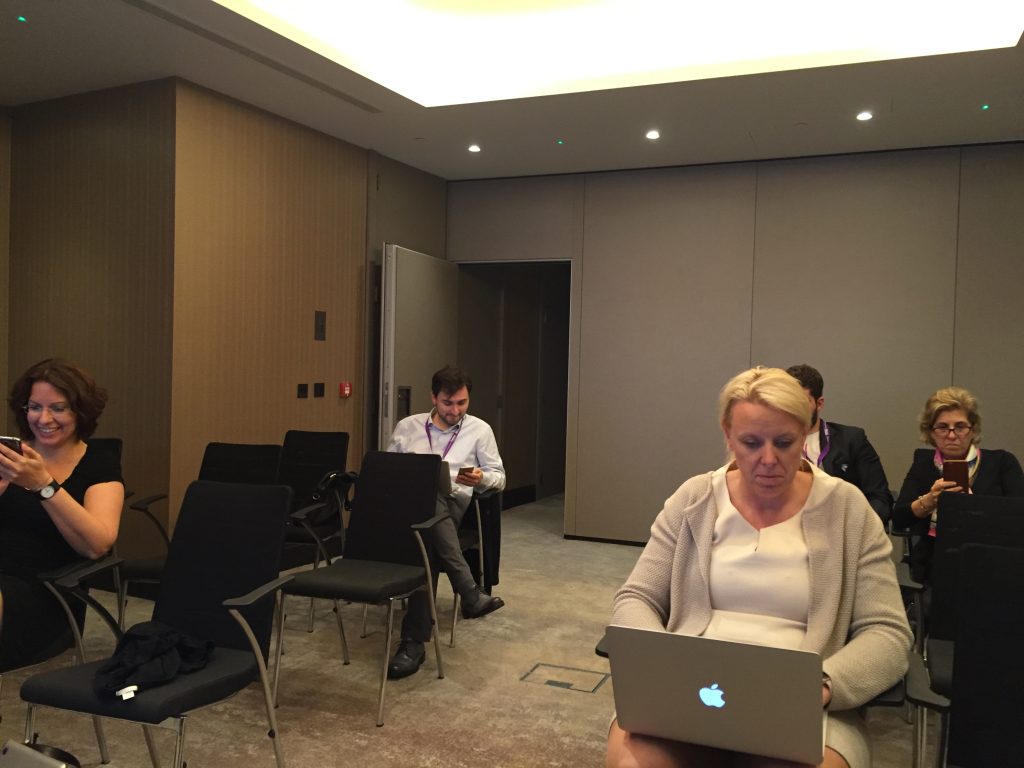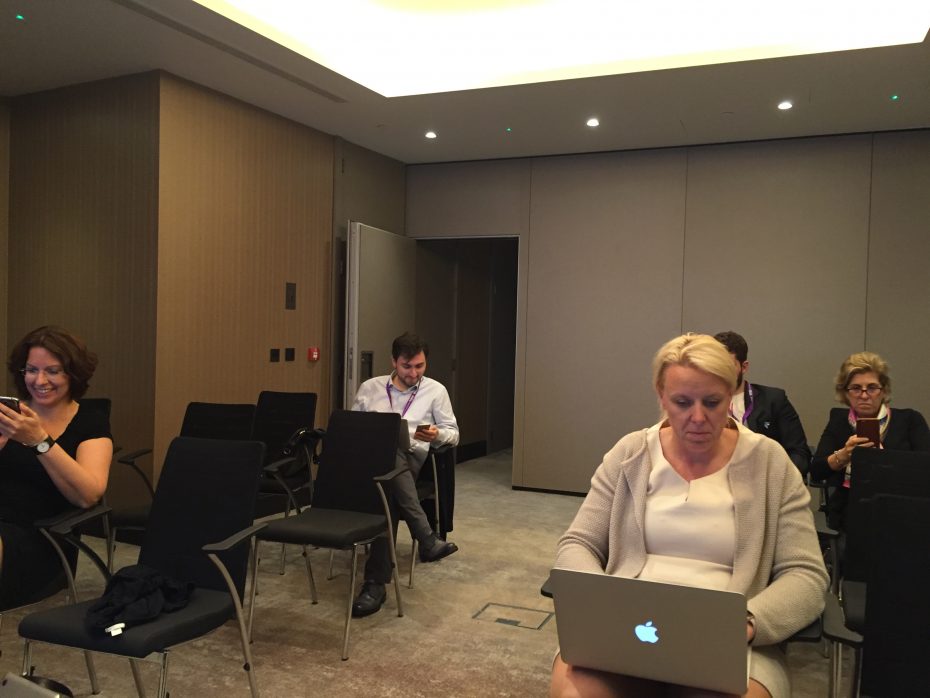 Yet online, it's all RAH RAH RAH!!!
Despite the offline-online discordance, it was actually really fun, and those who participated live told me learned a ton about how to curate such an event.
And really… I was invited to host a digital event from one of the best conferences of our industry… in London. Someone pinch me!
Speaking of, here's some of what we talked about.
On where PR fits within the integrated communications context:
A2: PR is a two-way communication channel now that weaves itself throughout all of marketing and business. #AMECSummit #measurepr
A2. PR has moved fr/ being just the media liaison to the PR influencer w/ all stakeholders incl. customers. #AMECSummit #measurepr
A2 Distinctions btwn comms disciplines are blurred more & more. Integrated comms focus on effect (cont) #amecsummit #measurepr
A2: PR/Marketing collaboration = success. All aspects of comms working together pushes the bottom line. Period. #amecsummit #measurepr
Bill Smith also had this to say:
A2) For businesses, PR builds awareness, marketing generates leads and ideally sales closes the deal #amecsummit #measurepr
On moving beyond impressions:
A3: PESO measurement, which @AMECorg is really pushing! Holistic measurement is crucial. Get the FULL picture not just a segment. #measurepr
A3: If you're just going for impressions, that's all you'll get. You manifest what you measure. #AMECSummit #measurepr
A3 I think it's connected to goalsetting & what the customer sees as success, to remind them of the effect factor to #amecsummit #measurepr
A3. It's time to look at the BIG picture w/ different data sets to see how PR is a part of the ROI puzzle. #AMECSummit #measurepr
Gerard Corbett also chimed in:
A3. Impressions don't impress. Action speaks louder than impressions. #measurepr
On common mistakes in measuring PR:
A4: Not knowing what the true goal of a campaign is. "Publicity" isn't a reason to do something. #AMECSummit #measurepr
Q4: One of the biggest mistakes I see in our industry is PR pros thinking that measurement is one-size-fits-all. #amecsummit #measurepr
A4 Still to much focus on what is easy to count not answer What does it mean? (cont) #amecsummit #measurepr
A4. Mistake: Not tying your comms goals to higher level business objectives. #measurePR #AMECSummit#measurepr
Community member Christine Perkett offered this insight:
A4) also not showing how strategy will change as a result of analysis. Gathering data isn't enough – only 1st step #amecsummit #measurepr
Despite the bizarre factor mentioned above, time flew by, and I wouldn't have missed it for the world – it was a really unique event and opportunity, and I'm so grateful to have been invited to do this.
If you missed it or would like to relive the action, check out the #measurePR transcript for June 14.
July #measurePR Announcement
In July, we'll take a look at smart reporting with three special guests: founder and CEO of Iris PR Software Aly Saxe; CEO of Geben Communication Heather Whaling; and digital PR strategist Sally Falkow.
So please mark your calendars for Tuesday, July 12th from 12-1 pm ET, and RSVP to our Facebook event.
"See" you there!