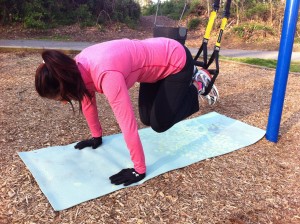 It's been about six weeks since my last Bootcamp update. And you want to know where I stand, don't you?
It is Friday, after all. Of course you do!
Here's where I am:
Down around 20-22 lbs total since I started (my weight varies a little, but it's staying in this range)
Down a total of about 22 inches
My BMI seems to have settled in (for now at least) at around 22
My body fat percentage, which started out at 31.6%, is down to 21.7%
That's me doing the reverse crunch with the TRX earlier this week.
And since my last update, I have come down another dress size; actually make that one and a half, because I'm midway between my current size and the next lower size (I know, you're dying to know what that is, but you'll have to wait a bit for the "final" reveal for that).
Losing it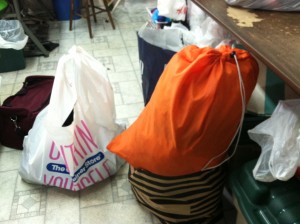 Last week I took three bags of clothes to my local seamstress – she's literally around the corner from me, and I only just found her! – so that I could get them taken in (I literally have no clothes that fit me properly, and it's cheaper to get them altered than buy a whole new wardrobe).
And while I know she was appreciative of the business, I also know she got tired "pinning" me. I was tired standing there, trying on outfit after outfit, but what a great reason to be tired, right?
I may not be the "biggest loser," but I'm definitely a loser… in the right way. And I love it.
Gaining it
As I've said before, with this "loss" has come gain: gains in confidence, strength, better health, more energy, more focus… all good things.
I've been meeting more people in my neighborhood since Grant, my trainer (who is incredible to work with), and I work out at my neighborhood park in the mornings. So we see a lot of regulars walking their dogs), and much to my delight, they call me the Exercise Lady.
They don't even mind the grunting and screaming I do when I'm pounding the sandbag; in fact, they encourage it. I love that they stop to chat, and if they see I'm mid-exercise, they call out, "Looking good!" Which, of course, spurs me on to do better, since I'm on display, as it were.
To vary my exercise routine, I've started running. I've been using the Couch to 5K app, and while I'm nowhere near being a real runner – I've never been one – my body is slowly adapting to this new form of exercise. And while I still don't particularly like running, I do like the way my body feels after I'm done with the day's workout, cranky knees notwithstanding.
My Facebook Bootcamp Buddies are a tremendous source of support, health and food information and suggestions, and laughs (you're welcome to join us if you're on a similar journey, it's a secret group, so no fears of being embarrassed or laughed at, just let me know). We have a Pinterest board, by the way, in case you'd like to follow it.
Changing goals
When I decided to change my life, back in August 2011, initially I wanted to get to a certain weight and fit into a certain dress size. With my love for measurable objectives, that seemed a smart way to go. And as I did that, I wanted to feel fit and healthy.
My goals have changed.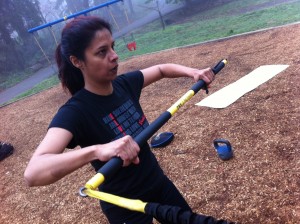 I still want to feel fit and healthy – which I do, now – but now I don't care about reaching that original weight goal. Now I am focused on turning the fat that remains into muscle, and fine-tuning the machine that my body was designed to be.
I still track my progress (or lack thereof, it happens) on a weekly basis in Excel (don't laugh!), but now I'm looking at the inches and body fat percentage much more closely than I am the weight. As long as they are where I want them to be, I don't care how much I weigh.
Goals change. As long as they are changing for the right reasons, that's a good thing.
Thank you
I've said this before, and I'll say it again: thank you. You have been a tremendous source of support over all these months of telling you about my Bootcamp adventure (and years of blogging).
You help to keep me going. Literally. I'm in danger of getting all mushy, so I will stop there, but not before saying it again: thank you, thank you, thank you!