Estimated Reading Time: 6 minutes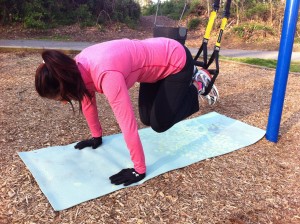 It's been about six weeks since my last Bootcamp update. And you want to know where I stand, don't you?
It is Friday, after all. Of course you do!
Here's where I am:
Down around 20-22 lbs total since I started (my weight varies a little, but it's staying in this range)
Down a total of about 22 inches
My BMI seems to have settled in (for now at least) at around 22
My body fat percentage, which started out at 31.6%, is down to 21.7%
That's me doing the reverse crunch with the TRX earlier this week.