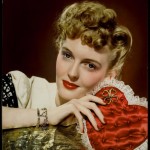 It's February, and besides fixating on when I'll be able to venture out in the morning for work without being swathed in multi-layered warmth, I allow myself a moment to get all romantic, buy my wife roses, and celebrate that wonderfully-contrived concept called "Valentine's Day."
Image: George Eastman House via Flickr, CC 2.0
A great percentage of the world's romantically-inclined seem to have wholeheartedly embraced the notion that it's important one day a year to show someone how much he or she means to you. Whoopee!
So, that means for the other 364 +/- days, I'm yesterday's leftover eggplant??
As might be expected, this cerebral contemplation, in addition to giving me a massive headache, got me thinking about public relations…the relationship part of PR.
I write about this pretty often, and I'm not going to throw any of my colleagues under the proverbial bus by implying that "so-and-so is clueless about interacting with his/her stakeholders." Truth be told, I think we as public relations professionals have gotten really good at connecting with those who are important to us or to our clients, acknowledging their importance, and working diligently to maintain strong, open communications with them at all levels.
But, just like a strong, healthy romance, those relationships have to be nurtured…not taken for granted.
And, to be truly long-lasting and successful, they have to be ongoing, not once a year or once in a while when the "mood" strikes. We should be in this for the long haul. 
The Public Relations Society of America defines "public relations" as "a strategic communication process that builds mutually beneficial relationships between organizations and their publics." Those two emphasized words: "strategic" and "process" imply an ongoing, long-term commitment.
It's a lasting, ever-evolving relationship that requires…no, demands…constant care.
It's not, "Happy Valentine's Day. I love you. Oh, gee, what was your name again??"