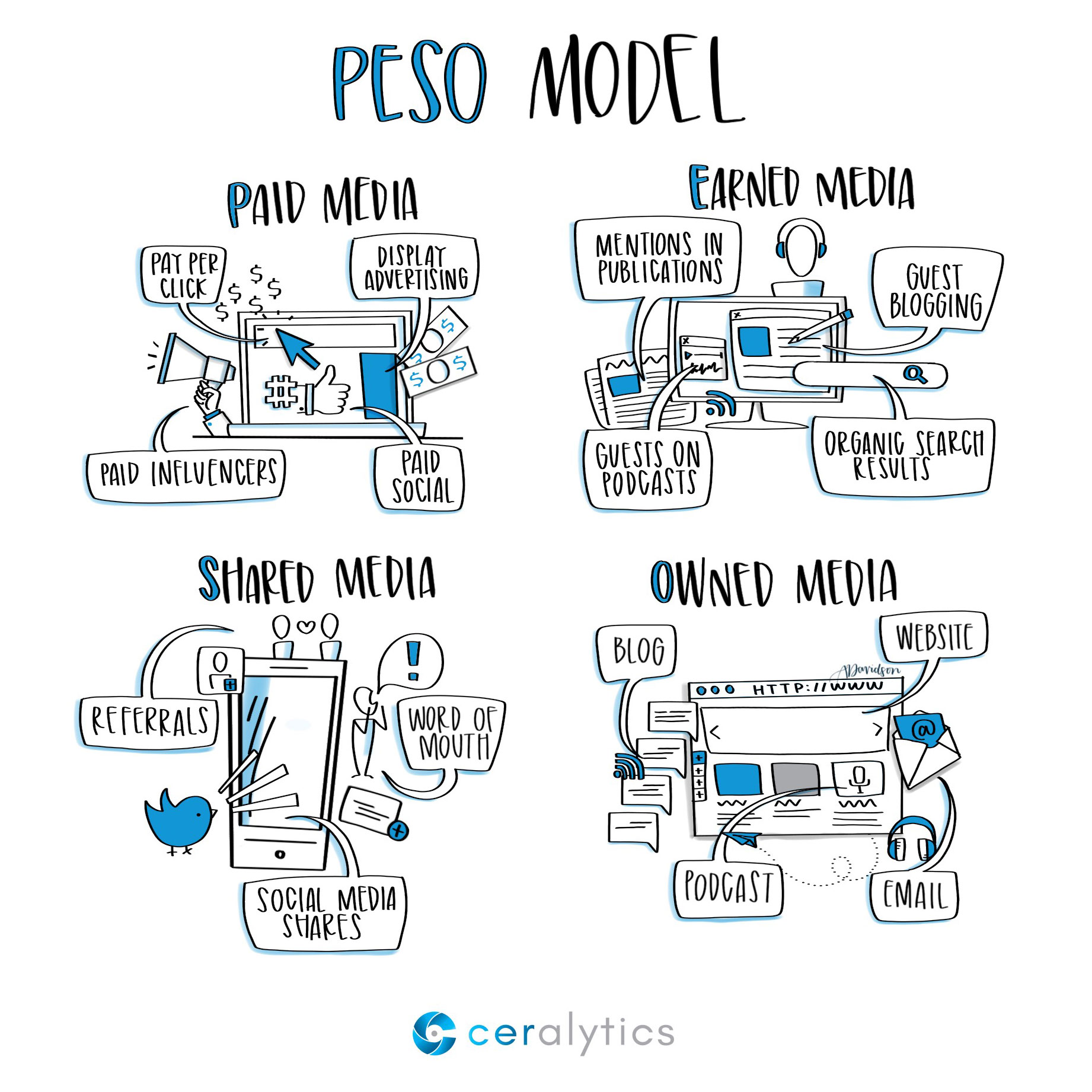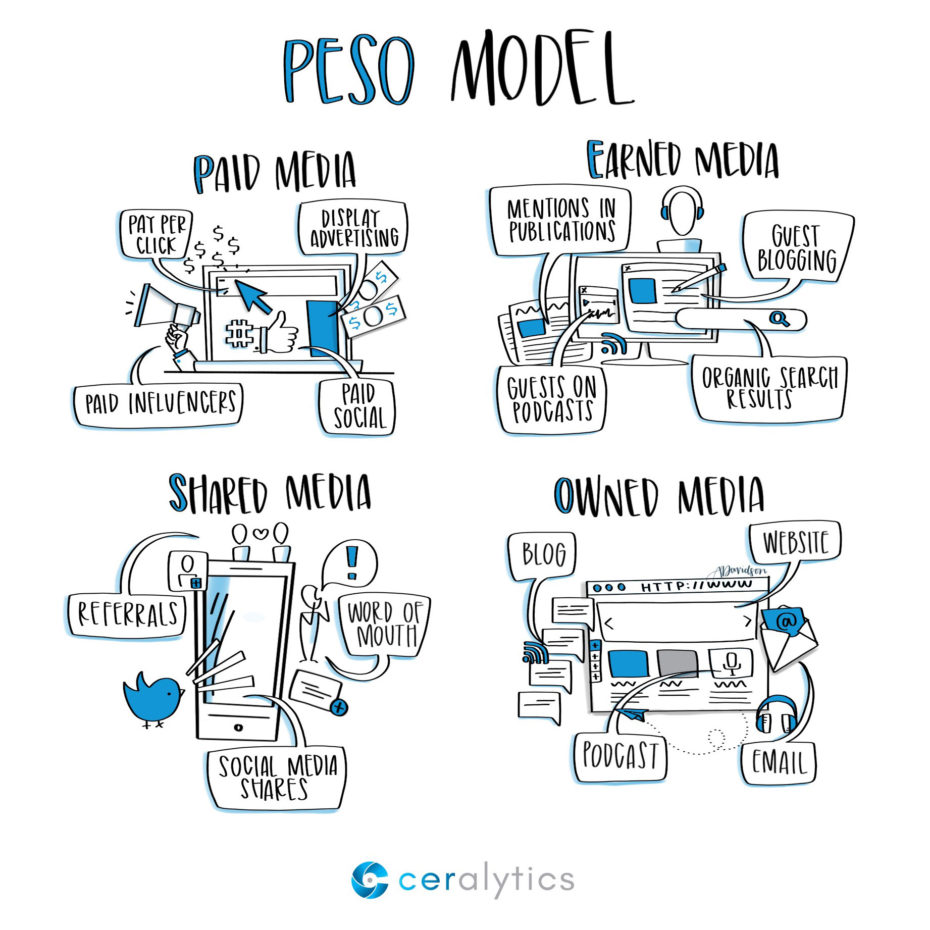 Guest Post by Brandon Andersen
Have you written a great piece of content and felt like it was going to be a hit, only to have it fall flat once it was published?
I think it's safe to say we all have.
There was a time, about 10 years ago, when the saying, "If you write it, they will come," was true. Back then a great piece of content would be picked up by someone in social media, or by an industry influencer, and it would go nuts, seemingly all by itself.
Now, we're fighting through an oversupply of content known as content shock, which makes getting our great content seen incredibly difficult. So how can we cut through the clutter?
Pulling together your A-Team
The PESO model hits many different distribution channels at once with your story-generating industry buzz that goes beyond simple distribution techniques like paid social and cost-per-click programs.
Historically, PR has embraced the PESO model because its focus is on media. The amazing Gini Dietrich covers PESO's role in PR incredibly well here.
With the blurring lines of who owns content and social, it's imperative that communicators in all disciplines work together to create, promote and measure a unified story. This requires some changes to traditional marketing and communications roles.
For content marketers, it means looking past the creation and simple paid promotion of owned media content.
For PR professionals, it means getting out of media relations mode and looking at the bigger picture.
For social teams, it means spending time and effort promoting pieces of content and media hits in a genuine way that still appeals to their audiences, and holds the teams accountable to top of the funnel results.
For demand generation and advertising teams, it means focusing resources at the top of the funnel instead of at the bottom.
Looking at the PESO model in action
Let's walk through an example to show how this all works together.
Start with the goal of your content: Produce 2,000 downloads that equate to marketing soft leads for sales.
This goal should be shared across the entire marketing/communications department. It's not a content marketing goal or a PR goal. It's a multi-department goal.
Now, the content team drives the creation of a piece of great content – in this case, it will be an industry report, delivering insights to a pain point the audience has. The pain point was discovered through content intelligence, giving the team confidence that pursuing a large industry report about it is worth the time and effort.
This piece of content and the audience pain point are the center of the PESO campaign.
The content team creates a number of owned pieces of content – blog posts, newsletters and calls to action on other blog posts related to the pain point. If the content team has a native advertising budget, it can create a native article to place in a publication the PR team can't quite crack. Also, if you have a sales team, give them the asset to send to their prospects and clients.
The PR team works with the content team on the positioning and story of the piece that they then use to pitch earned media channels such as publishers and industry influencers. Preferably, this pitching happens as exclusives to publications and influencers, giving them the incentive to jump on the story and be the first to report these findings. The PR team can also engage in paid influencer marketing, for those influencers who require compensation. The PR team can also help position guest bloggers from the PR or content team with publications which are open to guest content.
The social team promotes the content and underlying story to the shared audience it engages, both organically and via paid social. While promoting the story, the social team also provides feedback to the content and PR teams on the qualitative feedback they're getting and any additional influencers who engage in the content (these influencers can be pitched to with different angles for the story or utilized for future campaigns).
The demand generation and advertising teams promote to paid channels: display ads for the report, retargeting to previous site visitors, cost-per-click, cost-per-lead programs, etc.
As each team receives feedback and measures what is working and what is not, they communicate to each other their findings. An analysis of the campaign, as it's going, is essential here.
Updates need to be made quickly and across the board, so each channel benefits from the insights of the others.
Next steps to distribute your content more effectively
Look at your existing content promotion strategy. If it doesn't include all of the aspects of the PESO model, first understand why. Is it because you lack one of the teams? Do you lack time and resources? Do these departments not have shared goals?
If any of these are standing in your way, address them first.
Once the roadblocks are out of the way, look at your high-level content marketing goals and how you're going to achieve them. The PESO model works best on big pieces of cornerstone content that set your organization apart from the competition.
Do you know what pain point you should address and invest in? Get buy-in from the other teams who are going to help with this distribution strategy. What resources can you get from each to achieve this goal? How can it be a shared goal?
Create the content and the distribution plan in tandem. Understand where you're pitching, the angle, what ads will be used, where they will be placed, what pieces of content will be produced, etc.
Get everything written into a plan with assigned tasks and a timeline.
Execute the plan and measure the results. Get feedback from all teams as you go. You may find that certain media is performing better than others. Reallocate resources as necessary to achieve the maximum result possible.
This post is from Ceralytics' Sketchalytics newsletter, a weekly newsletter that focuses on one micro-lesson in marketing and/or business each week.
Image via Amanda Davidson, used with permission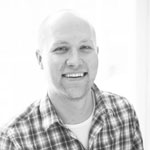 Brandon Andersen is Chief Strategist at Ceralytics, a content intelligence platform. A self-described content marketing junkie, Brandon is always looking for new ideas and brilliant uses of content that tells a story.