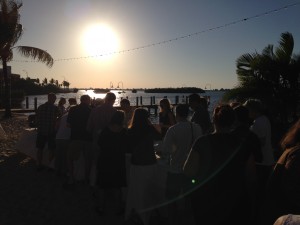 Not to repeat this ad nauseam, but I've been traveling like a whirling dervish recently (still in Boston today, as a matter of fact). And recently, I had occasion to take a red eye back to DC from San Francisco.
A red eye? Why?
When I travel for speaking engagements and presentations, it's virtually impossible to see and meet everyone I want to catch up with. So I've started building in at least one extra day, sometimes two, in order to meet up with folk.
Hence the red eye. It gave me a full extra day on the West Coast without actually spending an additional night there… I just did that on the flight back. Ha!
After a full day of meetings on my bonus day""which was super, as I got to meet Todd Defren for the first time IRL, catch up with Shel Israel, Maura Lafferty and other friends""I had a few hours to spare at SFO. As I parked myself at various restaurants and caught up on work, it was very interesting to watch the airport at night.
Off hours
It's so different to the scene during the day, or during peak flying hours. Restaurants aren't as crowded. People are mellower.
There are very few toddlers running around, screaming their heads off (though take an international flight East of the Black Sea and it might be a completely different story).
 While there isn't the hubbub one associates with one of the world's busiest airports, it's clear that the core infrastructure of the airport is still working.
Restaurants are still open. Shops are still open… albeit fewer ones, and with much less foot traffic. Ground staff? Fewer, but there.
ATMs? Definitely working!
And the point is…
This is uncannily similar to the way your organizational communications should work. They don't always have to be humming, but they do need to be constantly running.
Even if that means they're in the background; even if that means they aren't the sexy new initiative du jour; even if that means it feels like no one's paying attention.
Because you really don't want to be the poster child of when someone IS paying attention… and no one's there.
Do you?