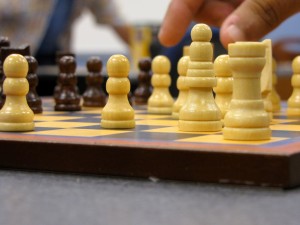 Good morning from sunny Key West, Fla.! I'm still here – I got here Sunday to speak at the PRSA Counselors Academy Spring Conference, which has been great. You should see the view from my room … the Gulf of Mexico, baby!
Soon I'll be heading to Boston for a bespoke (I love that word) full-day training program for the Office for Diversity Inclusion and Community Partnership's LFDP Conference at Harvard Medical School. Yes, Haaahvahd. Ain't that cool?!
Btw, if you're wondering why your regular Monday Roundup is coming to you on a Wednesday, it's because this week's guest post was time-sensitive. It was for a great cause, so even though it was submitted late, we wanted to help out. 'Cos that's how we roll.
Image: Marie Coleman via Flickr, CC 2.0
Problems, every business has them. It's how we approach solving them that makes or breaks us. This week's roundup features seven posts from around the web that focus on problem solving.
1. Don't Ignore Distribution in Your Content Marketing
Why: If you feel your business has a problem with using content effectively, you're not alone. Jackson Wightman relays some key points on distribution.
2. 8 Reasons Why Your Email Open Rate is Nosediving
Why: Is poor email formatting the root cause of declining open rates? In this guest post for ProBlogger, Luke Guy offers some tips to get your emails noticed.
3. Let Me Give You Money Please
Why: Do you make it easy for your customers and clients to do business with you? This is an absolutely brilliant post from Rosemary O'Neill.
Why: In this WUL classic, I examine whether PR pros and firms themselves are the main source of negative public perception of PR in general.
5. 4 Ways To Fix Your Facebook Problem
Why: What can you do to combat Facebook's declining organic reach for businesses? Jay Bear and Robert Rose give us their ideas.
6. The Complicated Problem of Social CRM
Why: Social CRM isn't always as easy to set up as it sounds. Frank Strong shares his ideas.
7. The Hidden Value of Influencers in B2B Content Marketing
Why: B2B content marketers face a lot of challenges. Lee Odden explores how many of them can be solved by tapping into the hidden value of working with influencers.
How do you solve business problems effectively and efficiently? Please share in the comments below.