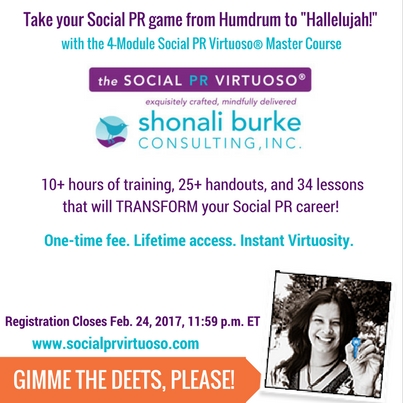 This Saturday, at about 2:45 pm EST, the clouds parted, the angels came out to sing, and all of Ireland finally found out where leprechauns hide their gold.
OK, it didn't happen quite like that (#AlternativeFacts), but here's what DID happen:
Two-thirds of the way through my free, LIVE online training, "Lift Off!," I announced the reopening of The Social PR Virtuoso® Master Course, my online, on-demand course on all things Social PR.
You'll have immediate and lifetime access once you sign up, but registration will close on Feb. 24 (midnight EST).
Here's what you get when you sign up:
a 4-module Social PR Master Course built around The 7C Social PR Framework™, my signature, PROVEN approach to effective Social PR that helps generate business results.
The course comprises everything from getting started with a solid foundation, to messaging, to content, to media relations in a social world, to smart metrics – an area of Social PR I am particularly known for, because of my innovative and practical approach.
You may know, or know of, Corina Manea, chief community officer at Arment Dietrich, and who leads student relations for Spin Sucks.
Corina is also the founder of NutsPR and a well-known social media strategist in her own right.
She was one of my beta students when I first launched the course – in fact, she was Virtuoso #2, a Founder's Circle member – and she calls it "the A to Z of Social PR":


Corina should know, right?
Here's what's in the recently-upgraded course site:
34 recorded video lessons (5+ hours) plus 25+ workflows, hacks, mind maps, and formulas that I've developed over the years, which you can apply in your own work and that are not available anywhere else
Lifetime access for a one-time fee
Online and self-paced, so log in whenever, from wherever, however many times you want
Several additional hours of training via replica recordings of my mini-trainings (like "Lift Off!" which just ended and people LOVED)
Even more bonus content like the Twitter Chat Template Vault, which teaches you how to set up and manage Twitter chats just like I do with #measurePR, and with a swipe file of promo tweets
Access to my private Social PR Virtuoso community, where we brainstorm, make incredible personal and business connections, and ALSO do monthly live group calls
Priority access to the Master Course Intensive, a 4-week LIVE class (1x/week, for 4 weeks), i.e. live group video calls to go through each module together
The first Intensive of 2017 begins March 2 (video recordings for those who can't join live).
So much goodness I'm about to pee my pants. So spare me the adult diaper angst and go check it out.
PS: I know you might need to get budget approval from your organizations, etc., for the Master Course, in order to expense it.
Excellent idea, just remember that registration will close at 11:59 pm ET on Friday, Feb. 24, so definitely get in before then.