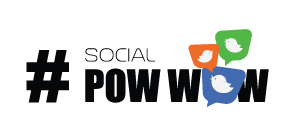 While most of my friends and family are on Facebook and "addicted" to this social network, I choose to meet and interact with new people on Twitter.
No, that doesn't mean I don't like my friends or family. ;)
The beauty about Twitter is that you don't need to be "friends" with someone before you start interacting with them. And what's better than e-meeting new people from across the globe and learning from their experiences?
Social media has paved the way for us to meet like-minded people from all over the world.
Last year, I started a Twitter chat called #SocialPowWow in order to have a meeting ground on Twitter for PR pros, marketers and startups from India and across the world.
Before I tell you more about it, I'd like to give a BIG shout out to the hosts of chats and the respective communities who helped me learn and increase knowledge over the years and yes, I have built strong relationships with them over time!
I was introduced to the world of Twitter chats by Shonali, and the first ever Twitter chat that I tuned in to was, of course, #MeasurePR. Since then there was no looking back. I enjoyed interacting with the community and learning more about the PR ecosystem and the importance of measurement in PR.
It always felt good to hear different perspectives from people across the globe; that pushed me to explore various other Twitter chats including #Bufferchat (Nicole Miller does a great job by going an extra mile for her community and making a connect with them), #Luv4social (Teri Kojetin & Carmella Lanni), #BizHeroes (I can't thank Kelly Hungerford enough for guiding me), and #SEMRushChat (Olga Andrienko) which focuses on topics like communications, branding, digital marketing, analytics, and SEO.
How did these chats help me?
Regularly interacting with these communities helped me gain immense knowledge. While I learnt a lot in my day job at a PR agency, I learned even more via these chats. From design tools to understanding analytics, measurement and the changing face of PR in the digital era, the Twitterati have definitely been my guiding light.  
Birth of #SocialPowWow
It was last year in October that I decided to start a chat to build a community of PR pros, marketers, and entrepreneurs in India to discuss topics of mutual interests. From 0 to over 400 followers in five months, I enjoyed building a community of people who have similar interests.
Power is gained by sharing knowledge, not hoarding it.
Inviting experts from various parts of the world including India, and collaborating and connecting the community in India with experts from all over the world and vice versa has definitely been one hell of a roller coaster ride!
I have always believed in the power of community; there is just SO much you can do. You learn, exchange ideas, collaborate and build long lasting relationships, because it's true that you connect only with like-minded people in this world.
So far, the topics we've covered include content marketing, digital marketing, marketing challenges for startups, analytics, storytelling, community management, the gap between PR and media, IMC, marketing trends for 2016, customer experience through analytics, the ethical side of social, and the future of video in India.
It's been five months since I started the weekly chat and the response to the chat has been overwhelming. Within three months of starting the chat, it was rated among the 15 most popular digital marketing Twitter chats by Echovme.
Ain't that awesome?
So, if you're reading this post, I really hope to see you at the next #SocialPowWow Twitter chat – we chat every Thursday, 11:30AM ET/ 9PM IST. Let's get together and build a strong community of communications and marketing professionals!