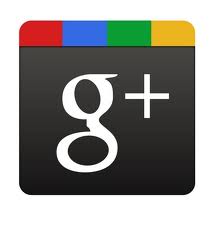 Guest Post by Howie Goldfarb
I have read a few "How to use Google Plus for Business" posts and presentations. They all focus on search results and the power of Google.
This is true.
While I do not have a Facebook Page, my Google Plus result comes up third in search: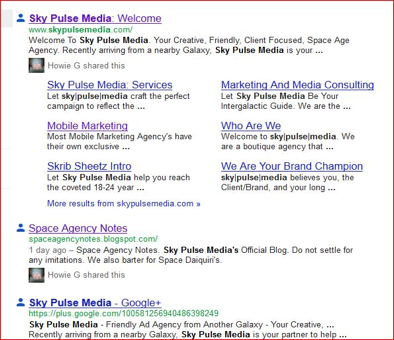 I did a test for Chobani and Pepsi. I didn't get the same results, but Facebook did not rank high for either. Chobani was not on the first page, and Pepsi's Twitter link actually trumped Facebook. But it is safe to say Google Plus will rank for you if you have enough content.
Next of note is Google Places. They are integrating your location, Google Maps and the Google Places page to rank local results first.

Note that while the Pepsi main site ranked first, the plant local to me showed up with an address and map.
Next of note is probably less impactful on your business, but very noteworthy to me.
If you connect with someone who writes in a foreign language, Google Plus now gives you an option to translate the page.

The next two tips are what separates Google Plus from a Facebook Page:
1. You can link your posts.
Facebook does not allow this. Click the little upper right corner arrow, and you can link the post and place that URL anywhere allowing you to drive traffic to your Google Plus page. Facebook allows you to link photos but not URLs.
See below: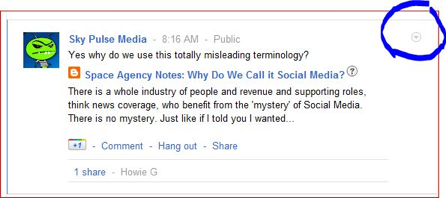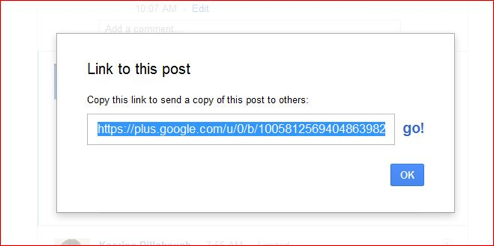 I have debated whether or not to link the blog posts that I share on Twitter via Google Plus. While it might add followers, my concern is people might have an issue with having to click twice to get to the content.
On the positive side, the Google Plus conversation engine is very powerful and much better than Facebook's, in my opinion.
2. Selling and marketing together
A while back, I wrote a guest post on Spin Sucks about how Twitter is for selling and Facebook for marketing.
Well Google Plus is for selling and marketing. It combines the passive "come to my page" of Facebook with the "call out" of Twitter. While you, as a business, cannot follow anyone who isn't following you first, you can call them out in the comments section of the post.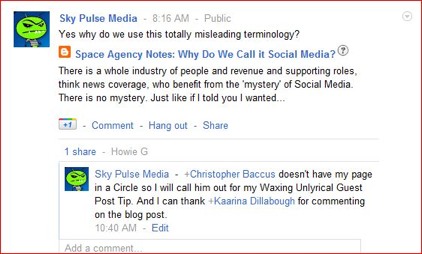 This enables you to actually initiate contact with other Google users, something Facebook does not allow you to do except in response to a person who posts on your wall first.
I have been doing some testing, and for some reason not everyone in Google Plus comes up, but many do.
The only thing missing is that while a Google Plus user can call out your brand on their own page, there is no "Wall" or way of posting to the page right now. That said, Google Plus can be a pretty powerful tool for you as a business, if you use it well.
What do you think? Have you been using Google Plus smartly? What tips do you have?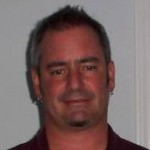 Howie Goldfarb is Vice President of Marketing and Corporate Strategy at Web Choice Consulting, a full service integrated marketing and Internet agency. He had a 14-year career in direct B2B industrial sales before deciding to lighten up his dreary work life and move into advertising/marketing. He has a CFO's view of marketing, bringing a dose of reality to the confusing world of jargon, spin, and hype. He currently lives in the Green Mountains of Vermont and is still seeking his first moose sighting.