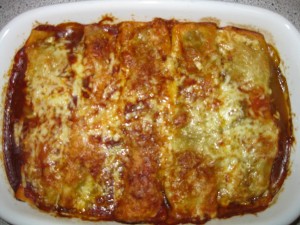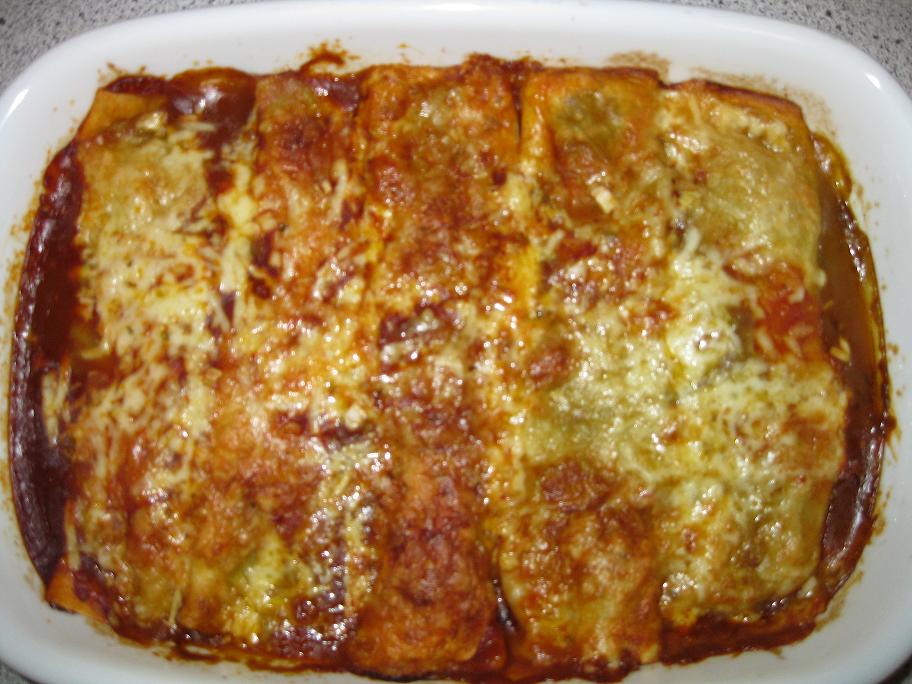 Before moving to the U.S. nine years ago, I'd eaten Mexican food only once or twice; it just wasn't that big in India at the time (I have no idea if it's different now). Chinese, Thai, Continental, yes, but not Mexican. Perhaps that's not surprising in in a country that has such a rich culinary heritage of its own.
Nine years down the road, I love Mexican food. There are several spices that are similar to those used frequently in Indian cooking, albeit in different combinations. It's up there with dosas for me. So here's my recipe for spinach and mushroom enchiladas. This is not a low-fat recipe by any means, but it's delicious.
Ingredients (makes 8 enchiladas; reduce ingredients if you want to make fewer)
½ bag frozen spinach, thawed & drained; 1 can black beans, drained; 1 white onion, chopped; 1 fresh tomato, chopped; 2 bunches green onions, sliced; 2 cups mushrooms, chopped; 8 tortillas; 2 cans enchilada sauce (I use one red and one green); 3 cups grated cheese (I like to use Pepper Jack); ½ bottle taco sauce; 2 tsp cooking oil.
Recipe
Preheat oven to 375°. Over medium-high heat, heat cooking oil, when hot, reduce heat to medium. Cook onion until translucent, then add half the green onions and mix for a couple of minutes. Add mushrooms and cook until they are browned and slightly reduced.
Add spinach and beans, mix well. After a couple of minutes, add tomato and stir well, then add taco sauce. Reduce heat to medium-low and cover, stirring occasionally, until tomatoes are cooked. Remove cover to boil off any extraneous liquid. Remove from heat and stir in 1 cup of cheese.
Heat tortillas according to package directions (I do this in the microwave). Add filling to tortillas one at a time and place them side-by-side, seam side down, in a lightly-greased baking dish (if you make 8 enchiladas, you'll probably need 2 dishes). Pour enchilada sauce over the tortillas, and sprinkle with remaining green onions and cheese.
Bake uncovered for 25-30 minutes, or until cheese is melted. Serve hot.
Notes: You can use any cheese you like; I just like the flavor pepper jack adds, but it's not low-fat, unfortunately (which means I don't make these very often). You can also try reducing the cheese you add to the filling and adding in some non-fat sour cream – that tastes very good as well. I like to use a lot of sauce to cover the tortillas so that I don't have crispy edges, but you can reduce that if you like.