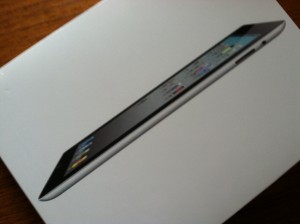 I was all tapped out yesterday.
Monday was a hectic day, yesterday we had a really energetic #measurePR Twitter chat with Megan Berry of Klout (can't wait for that recap, can you?), I had 16 papers to grade, my husband's birthday is coming up, followed a week later by our wedding anniversary… so much going on, to do/plan/prepare for… aargh!
And then it happened. My iPad – which I ordered a couple of weeks ago – arrived.
When I started writing this post, I hadn't even opened it (ok, I took off the wrapping, but the iPad was still in pristine condition in its box) … because I knew that if I did, I'd start playing with it immediately, and I could effectively wave "goodbye" to the rest of my day.
I did, however, take a photo of it – still in the box – with my iPhone, and post it to my Facebook Page. Within minutes, it started generating discussion as you can see from this screengrab (I've blurred out the names for privacy reasons):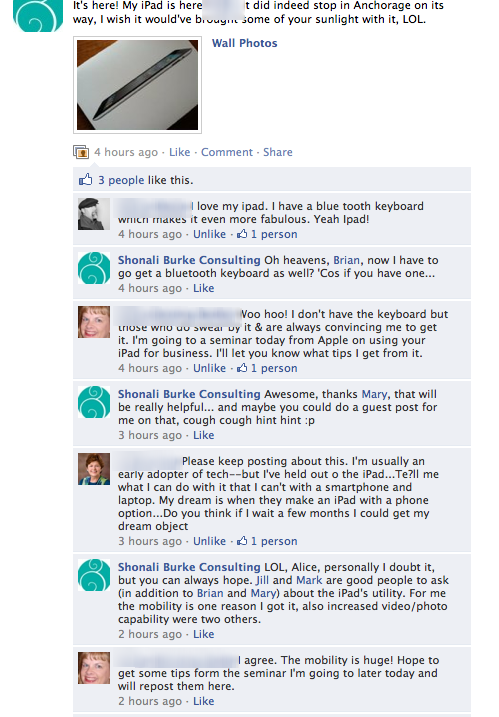 Shared excitement and engagement
Over the last couple of weeks, ever since I first posted that I had ordered an iPad, to when I posted that it had shipped, to when I posted how disappointed I was the other day on receiving a package that was "only" a Klout Perk, to yesterday, when I shared my excitement on Facebook that it was finally here, I've seen this happen every single time. Every. Single. Time.
And it's not just the iPad-related posts that have generated happiness among my friends. It happened when I decided to switch from BlackBerry to iPhone, and when I decided to switch from PC to Mac (that was the first Apple product I ordered, so you can see I have slowly but surely become a #Machead). Every time. And not just on Facebook, but on Twitter too, if I shared the news there.
I've lost count of how many people offered advice, shared their favorite apps and tips. Sam Title even got on a Skype IM chat with me to help me customize my MacBook Pro, since I was, at the time, completely clueless about all things Apple (not that I'm much better now, but certainly a little better).
When customer service is less than great
Now, I've never heard great things about Apple's customer service. My friends have had their own issues with it. And even though Apple employees are apparently all ingesting a secret sauce, I personally haven't seen evidence of it from a customer service point of view (they were great when I was making a purchase, but after that, not so much, and my own in-store experience left much to be desired).
Quite possibly there are reports, etc., that I'm not seeing, but my point is that usually when you see breathless "omigawd they're so awesome" customer service-related posts or tweets, they're usually talking about Zappos, Southwest and Comcast, not Apple. And the company's Scott Forstall hasn't even tweeted yet, despite much being made of his getting on Twitter.
Why it doesn't matter
But Apple's products are so good that it doesn't matter. The Apple experience is so great that it doesn't matter. Apple's customers do exactly what the company needs them to do – to evangelize the product(s) and brand (I mean, have you read this post?! God help you if you catch me IRL and ask me about my Apple products, you'll be lucky to walk away with both ears intact).
That is the magic that is Apple. That is the kind of magic we need to try to weave for our organizations and clients … and our businesses. At the core of it is having a product, or service (or mission, in the case of nonprofit organizations) that, once experienced by your audience, is shared further by them because of their own experience and zeal for what you do (or make).
Marketing bells and whistles are great, but if the very product/service sucks, I don't think even the best marketing, or great customer service, can help us get very far.
So: how are you putting the magic that is Apple to work for you?
Please share, I'd love to know. Or do you think I'm off the mark? Either way, please tell me, so that we can learn together!