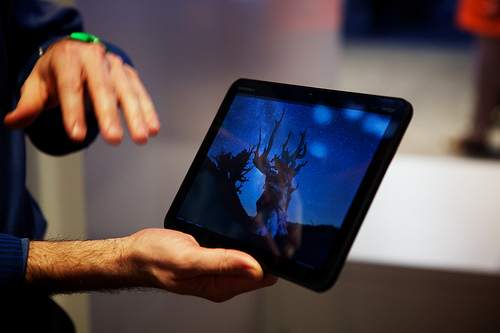 XOOMing in
I was recently given the opportunity to use a Motorola XOOM for almost 3 months by my good friend Mark Farnen, whose client is Verizon Wireless (Verizon is the carrier providing 3G/4G service for the XOOM).
Going into my trial, I wanted to see if I could effectively make a tablet like the XOOM my computer. I quickly realized that wasn't going to be the case, but that's nothing against the XOOM.
This is because the screen (which is HUGE, in the ballpark of 10.1″) has a keyboard that is smaller than the standard size. So typing is essentially hunt and peck, or using your thumbs as you would on your phone. Neither is conducive to getting work done.
But that's OK.
I realized that the XOOM isn't designed to replace your laptop; it's meant to enhance your online experience. I used the XOOM several times to show my kids at the Boys & Girls Clubs of West Central Missouri different videos on YouTube, impromptu discussion of how using Facebook and Twitter can be a part of a job, and that the Internet is more than just a place to find video games to play.
"That's all well and good Mr. LaCasse, and hooray for your honorable use of it. But would you go out and buy one tomorrow?"
Absolutely.
The XOOM has both a camera on both sides, making video chatting on Skype a pleasure. I found the 5MP camera took extremely high quality pictures; though the video camera images did leave something to be desired. The battery life is beyond good.
If Motorola were to start making cars tomorrow, and used the battery that is in the XOOM as a prototype, you'd need to charge your car about once every three days.

That's how often I had to charge it, and that's continuous run time. I'd often forget to turn it off overnight, but the battery consistently lasted, seemingly, for eons.
Practical applications of the XOOM that I can see are:
for presentations to a small group (or a "notepad" for larger presentations),
casual browsing while watching TV, and
use as a digital camera/video recorder.
There are many more uses, I'm sure; these are the ones that come to mind immediately. I've been without the XOOM for about a week now, and I miss it greatly. Mark softened the blow by giving me another toy to play with; a Droid Incredible 2. (I plan to review that in a few months).
So should you buy a XOOM or an iPad?
I've never used an iPad for an extended period of time, so the answer to that question is, "I don't know."
What I do know is that the XOOM was incredibly user friendly and intuitive.
It's runs very smoothly, has about 28GB  of storage, so all of your pictures, videos, and music will fit comfortably on to it. It runs Flash, so you don't miss large portions of the web like you would on the iPad, and it sounds like Honeycomb is only going to be getting better. Speaking of Honeycomb, the updated 3.1 version was much appreciated. I'm not a big widget user, so it didn't do a whole lot for me, but I'd agree with this CNET review of it.
The XOOM runs about $600 to start, and has about 4GB less storage than a comparable iPad. Compatibility with Flash, the ability to upgrade to 4G service from Verizon, and the flexibility of Android and the Android Market are what makes the XOOM a winner over the iPad in my book.
How about you? Let the XOOM vs. iPad debate begin.
Image: brandon shigeta via Flickr, CC 2.0