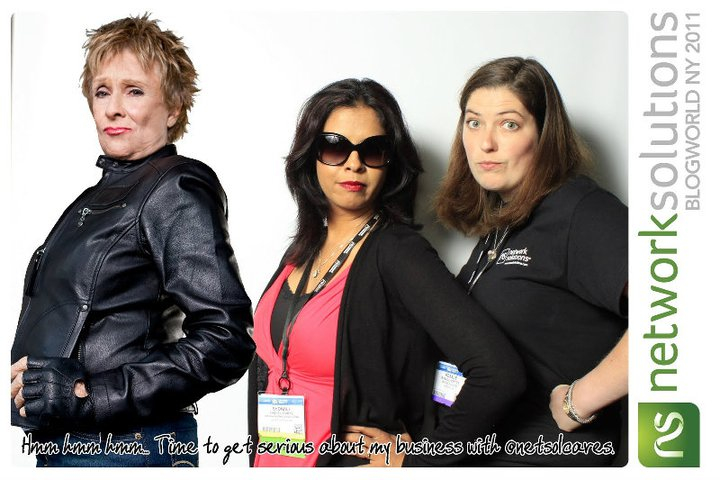 I'm still in NYC,
having taken a couple of days for R&R after BlogWorld. As you read this I'll be getting ready to head back to DC. It's been fun to see and experience Manhattan again after three years.
Three years? Jeez, what have I been thinking? I can NEVER stay away from New York this long ever again!
Also, I got my photo taken with Go Granny at the Network Solutions [client] booth, as you can see. That itself was worth the trip.
So this week's roundup is a little different. I met some very interesting people at BlogWorld; some for the first time, some were online connections I finally met offline. So I wanted to share a few people, posts, sites that may not have crossed your radar just yet.
1. I only saw the back of Dionisia Cespedes during one of the sessions, but what she said about her site, Sole Strivers, really intrigued me. I subscribe to some very good financial blogs, but I think Sole Strivers is different and could really catch on.
2. Heather Solos and Home Ec 101. I love the way Heather has put this together; it's almost like she's channeling "Neighbor Dorothy" from the Fannie Flagg books in a very modern way.
3. Lisa Gerber. Yes, I know you know her from Spin Sucks, and Gini Dietrich wrote a great post on why you should be following Lisa. But in case you haven't done this as yet, you really need to do so. She is smart, witty, beautiful and she also has the ability to be very still and restful at the same time, which is a remarkable quality that many people don't have.
I'm sure there will be much more I can share from my BlogWorld experience, but it will take me a while to process it. But do check these folks/sites out, I think you'll enjoy them.
Thanks, Network Solutions, for the photo booth fun with Go Granny!