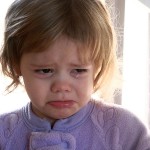 Regular readers of Waxing Unlyrical probably are familiar with Erin Feldman, the talented eclectic responsible for WUL's Sarah and Sheldon illustrations. That's how I was acquainted with her.
Image: crimfants via Flickr, CC 2.0
What you may not know is that Erin is a writer by trade, and her business has grown to the point that she isn't going to be contributing new S&S posts for the foreseeable future.
I love Shonali (I assume I must have declared this to her once or twice). But one of the most endearing things about WUL for me is that it introduced me to Erin, and I thought it might be a fitting tribute to share a few ways that I am a better person for knowing Erin Feldman.
The slightly less serious ones
I know that no matter how we prefer our coffee it always makes us more productive.
I know that anytime I meet someone new I should ask for their Twitter handle.
I know that setting boundaries is difficult .
I know that you cannot buy Facebook shares with Zynga currency.
I know that you need to be a cheerleader, even if you lost out on traditional opportunities to do so.
The Serious Ones
Erin taught me that good content isn't stagnant. Most copywriters don't do illustrations, and that's why I read more of Erin's posts than any other copywriter.
Erin taught me about the "more" tag. I don't think I ever told her this, but my site looks a heck of a lot more put together since Erin introduced me to it.
Erin taught me the value of boundaries. I pitched a post to her a few months back and she rejected it because it didn't fit with the content that she was publishing. I think that bloggers who exercise that level of discipline about their content are rare.
I couldn't be more grateful to have the opportunity to know Erin Feldman and to have enjoyed her contributions to WUL over the last couple of years. She is extraordinary and her voice will be missed….
I'll stop my gushing. Not because I couldn't say more about Erin but because I just read one of her blog posts and need to go proofread my site for "could ofs" that should be "could haves."
What have you learned from Erin Feldman and her surrogates Sarah and Sheldon?