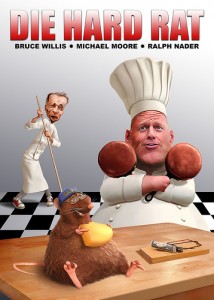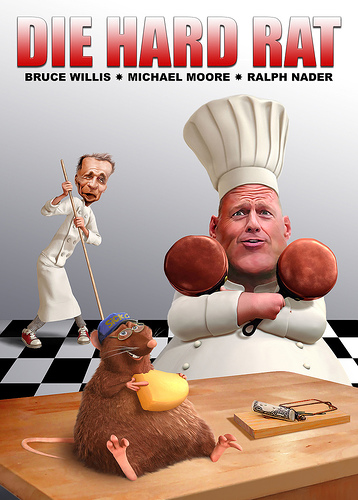 "You know you've been in a good Twitter chat when 'Die Hard' and squirrels are mentioned within seconds of each other."
That's what Lea Ann of Standing Dog said this past week as we were winding down the bi-weekly #measurePR chat, and it was such a great quote that I had to use it to kick off the recap post, as well as in the headline.
Die Hard and squirrels!
I couldn't find an image of squirrels Dying Hard, so I used this one with a Rat instead, courtesy AZRainman on Flickr, CC 2.0
So, yes, it was a really fun chat. They usually are, but there was something in the air last week. Perhaps it was relief that YouTube wasn't really shutting down (I thought that was a pretty lame attempt at an April Fool's joke, Gmail Blue was much better… but what do I know), perhaps it was giddiness at being done with one's taxes (are you done with yours?)… but whatever it was, it led to an extremely fun and engaged conversation.
Sandra Fathi of Affect agreed to come back to visit with us, even though she'd done the previous chat, and it was a delight to have her back. I was also psyched that Eric Wittlake, just one of the smartest guys around, was able to stop by for most, if not all, of the chat, so perhaps it was having a combination of all these Very Smart People around that made it fun.
Here's a peek:
On the differences between B2B and B2C measurement:
A1: Both need meaningful KPIs (key performance indicators) but B2B side usually needs more direct alignment w/ business goals #measurepr

"" Sandra Fathi (@sandrafathi) April 2, 2013
A1: Buying cycles tend to be longer between B2C and B2B too, reflecting need for different benckmarks and altered metrics. #measurepr

"" John Trader (@John_Trader1) April 2, 2013
So far so good. But it was when I asked what Sandra (and others) made of the "value of a Facebook fan" type conversation, that things got really interesting:
@shonali A2. Bunk. True at a point in time, but when you change behavior, benchmark is no longer valid. #measurepr

"" Eric Wittlake (@wittlake) April 2, 2013
Ha! Because it's so true, it is bunk!
Q2: I don't think you can put a $ value on a fan except in very specific situations. Usually this approach leads to …. #measurepr "" Sandra Fathi (@sandrafathi) April 2, 2013
Q2: (Cont) an attempt to acquire fans in an unorganic way – and that's a dangerous road #measurepr "" Sandra Fathi (@sandrafathi) April 2, 2013
And I think Rob Clark may have come up with one of my favorite lines of the chat:
A2: New rule. Anyone who assigns a $$ value to Likes must be forced to pay me cold hard currency in exchange for my clicks #measurePR

"" Rob Clark (@theelusivefish) April 2, 2013
And then he said something else that I loved:
A2 (more serious A) different pages will have different objectives. One KPI to rule 'em all will have you chasing wrong data. #measurePR

"" Rob Clark (@theelusivefish) April 2, 2013
The "value of a Facebook fan" question started off quite the discussion. So much so that everyone got lost when Q3 rolled around ("What was it? What was it? Whaaaa???").
Q3 asked Sandra how she and the Affect team were measuring their 2013 jobs contest, outside of getting decent enough applications to actually make a hire:
@shonali Yes, we do. This is our 3rd yr. 2012 had 110+ entries, 16,000+ votes, 3x our Twitter, 2x our FB and 20%+ increase to web #measurepr

"" Sandra Fathi (@sandrafathi) April 2, 2013
And that's when John Friedman introduced the squirrel:
#measurepr Distracting people from the main thread…my bad…oh look, a squirrel….

"" John Friedman (@JohnFriedman) April 2, 2013
… which was just after Brandon H had brought up "Die Hard":
@standingdog When someone brings up lack of ROI scale for #social I channel John McClain in Die Hard: "Welcome to the party pal!" #measurePR

"" Brandon H (@BH_Social) April 2, 2013
… and people wonder why I love Twitter. Where else would you get these gems interspersed with such hilarious lunacy?!
Anyway. Here's the #measurePR transcript for April 2 so you can get to the nitty-gritty of what we were talking about. Our next chat is scheduled for April 16, 12-1 pm ET (remember we go bi-weekly), so I hope you'll join us.
If you have questions on PR (and social media) measurement, or a suggestion for a future guest, do let me know in the comments section below.
Happy reading, and happy measuring!