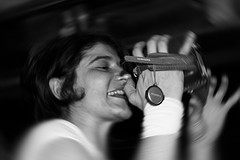 Guest Post by Shanan Sorochynski
This is part of the Blogging for Grasshoppers series
Reevaluating relationships
I've been in a loving, committed relationship with print for the majority of my career, but the lure of video has me reevaluating my options.
Image: Federica Olivieri via Flickr, Creative Commons
Here's why.
Use what your community has already made.
With video you don't have to do all the proverbial heavy lifting yourself.
The members of your organization have probably been creating great content long before your social media project came along.
If you work at a university – like I do – this isn't news. Recordings of lectures, documentaries, book trailers and celebrity speakers abound.
Through a quick search on YouTube I found a video one of our alumni, Luke Fandrich, had posted of photos he took on campus. They are stunning.
(Fun fact: Architect Minoru Yamasaki, the man who designed the twin towers of the World Trade Center also created the original design of our campus.)
I contacted Luke and found out he also created an amazing collection of short films.
So from that simple search I found material for two to three blog posts.
Surf around.
The videos you post don't necessarily need to be about your organization. Some of the videos I post on the University of Regina's blog aren't necessarily about the University. They supplement the pieces there.
So, for example…
… when our campus hosted an international film festival I posted the producers' film trailers.
… when Benoit B. Mandelbrot , the father of fractal geometry, passed away I added a video of his TED Talk to the post one of his former students wrote for us about him.
… and when I saw this great piece made by John Pavlus, a science and technology video creator, I had to use it.
It's a short film that explains both entropy and how to make a great movie that explains science.
It's not about U of R research, but  it is about something we teach; it can help our community create content; and it offers an incentive that just isn't within my budget- prizes.
The piece was made to promote a science video contest hosted by Ars Technica and they are offering a grand prize of a Canon EOS 7D.
Two birds. One stone. Information and extra incentive. Thanks Internet!
Make your own videos
I'm in awe (and a well of envy) every time I watch Big Think , TED or Fast Company's 30 Second MBA. Their videos are engaging and intelligent without being stuffy; a great standard to aspire to.
If you are like me, the halls of your organization are teeming with brilliant people who have interesting things to say.

So, what do you do? Find a video camera!
The videos I created for the University of Regina's blog feature faculty members speaking passionately about a topic for two to five minutes. My hope is to eventually film other members of the U of R community – staff, students, alumni, donors, community partners, etc. etc.
Below is the video we shot of Journalism professor Patricia Elliott talking about why people risk their lives to report the news in Burma.

I met with Patricia for maybe half an hour the week before the shoot to discuss the topic; we took maybe 15 minutes to shoot it and in less than 24 hours I had an edited copy to show her.
From start to finish we had the video up in about a week.
I don't have a film studio at my disposal.
The piece was shot by A/V Services' videographers, who primarily work on distance education and video conferencing. The Photography Department was nice enough to let us use the space where they take portraits.
The backdrop and lights were already there, we just needed to shoot between their very busy office's phone ringing and furniture being moved around on the floor above us.
A minor hurdle.
If you don't have in-house services
you can try using a smartphone video camera and one of the many editing programs floating around out there… Windows Live Movie Maker, iMovie, etc. etc.
And if you are really, really lucky, someone will hopefully recommend an amazing editing program for you in the comments section of this post.
Blog readers are helpful like that.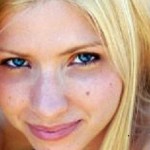 Shanan Sorochynski manages the University of Regina's first official blog: YOURblog. Previous to this she was the managing editor of U of R Report, the University's faculty and staff internal publication, and a print journalist in Manitoba.