These boots were made for talking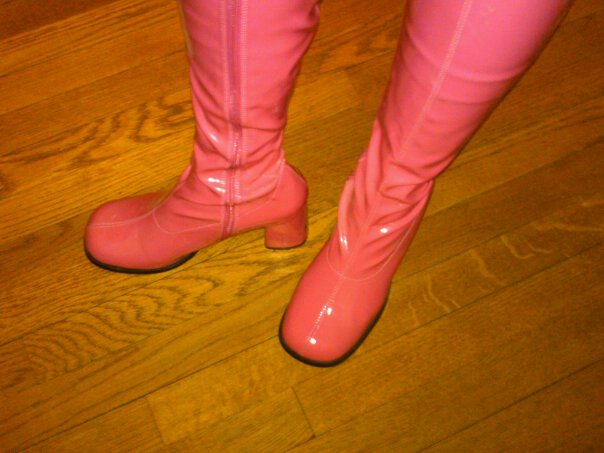 As editor of Women Grow Business (disclosure: client, which I love), I come across remarkable blog posts every day.
This is because the contributing bloggers are all remarkable women, and I am truly lucky to be able to see life through their eyes. And I try, as much as possible, to let their voices come through; as a result, my editing is usually minimal.
Even with the extremely high quality of posts I'm lucky to edit, one really stood out to me last week. It was Robin Ferrier's Social is as Social Does, where she asked, point-blank:
You know the difference between Facebook, Twitter, LinkedIn, and blogs. You have an idea about how you can and should use each one. You know the standard refrain: Social media is about talking with – not talking to – your audience.

But are you walking the walk?

What do I mean?

It's not just about whether you're using these different outlets. It's about how you're using them. More importantly, it's about how you're interacting on them.

Ask yourself these questions:

Are you commenting on other people's blogs? Have you commented on more than one posting on this site? Or other blogs?

Are you engaging in conversations? For example, are you responding to other people's tweets with your own thoughts on a particular issue? Are you RT'ing other people's messages?

Are you commenting on Facebook status updates? And more important, are you SHARING other people's status updates with your community?

Because it's not enough to be in the social media space if you're only there to project your message.
I was struck by the directness of Robin's question
and have been thinking about it ever since.
The truth is, we can all stand to be more social. Not by paying each other lip-service, but by really trying to see if we are interacting to the best of our ability and, if not, how we can kick that up a notch.
I like to think that I'm pretty social. I try to respond to all the messages I get on Twitter, Facebook and Amplify (the social platforms on which I'm most active), share and comment on interesting posts, and so on.
But this got me thinking: what could I do to kick it up a notch?
Now, I do think there's a difference between being social, sociable, and ramming one's self down the Interwebz' collective throat.
But I'd like to think that most of us focus on the former, as opposed to the latter.
I'm going to keep thinking about this and share more thoughts soon, but what do you think?
How do you walk the social talk? Please do share via a comment below, so that we can continue the conversation and learn from each other.