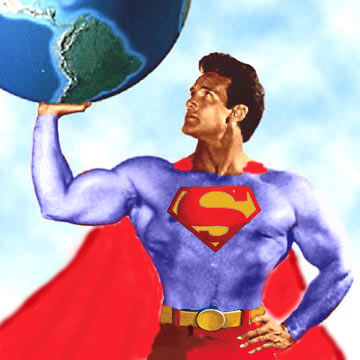 I think the whole Digital Death thing has been playing on my mind more than I realized.
After all, this is the third post in three days to reference that wretched campaign. Aaargh!!
As I wrote yesterday's post, and then read through the comments, I re-learned a lesson I thought I'd already learned:
that the community you are trying to build is great; but the community you have is even more important.
So I started going through my Reader, clicking through to more posts shared by my Facebook friends than I ordinarily do, and realized – much to my chagrin – that I don't give nearly as many props to my community as I like to think I do.
I also found some wonderful gems that I was not familiar with before, and realized they are people I want to get to know.
So today's roundup features seven posts from blogs that I have never before shared; not because I didn't want to, but because I was too thoughtless to do so.
I feel like an idiot saying that, but it's true.
Many of today's posts are from people I rely on for advice and consider my friends, both online and IRL. Some are new. But all of them are gems.
And I'm going to try to do better from now on.
So, without further ado, here's this week's roundup.
1. Give a goat this Christmas, from Steff Metal.
Why: this woman is amazing. I came across a great post by her on work/life balance on Constructively Productive, and was fascinated by her clarity of thought.
When I clicked through to her blog, I was even more enchanted. When you do the same, you'll see why.
This post is a great example of a charitable endeavor that is also concrete, as opposed to cosmetic.
2. Google can't save us from ourselves, from SpeakerBox's The Sounding Board.
Why: I don't mean to sound like a 40-year old curmudgeon, but I do think there is a certain abdication of responsibility that pervades our lives today. This post resonated.
3. Relationships and key messages like oil and water, from Justin Goldsborough's Justin Case You Were Wondering.
Why: relationship-building is – or, at least, is touted as – the holy grail of public relations. Justin examines this beautifully.
4. "Did someone say treats?!" from Jennifer Wilbur's A Dog's Beach.
Why: Jen is one of the finest people it's been my privilege to meet through social media.
She loves dogs! I love dogs! What other reason do you need?
Oh, yes. She's an amazing photographer. (I knew there was something else…)
5. Social media as the new support group? from Chuck Hemann's Analytics is King.
Why: it touched me deeply that Chuck (who has also appeared on #measurePR) would share something so personal, and acknowledge at the same time how critical social networks can be as support systems.
6. Mission: Accomplished, by Lindsay Allen.
Why: Lindsay was kind enough to share her reason for doing something she'd never before tried with me earlier this year.
She's another quite amazing person I've been lucky to meet, first through Twitter and then IRL.
And her recap still touches me.
7. Determining the business value of HootSuite Pro, by Joe Hackman.
Why: you want to meet someone who personifies "nice guy"? Say hello to Joe.
(Now, I have shared a link to a podcast Joe was nice enough to do with me, Danny Brown and Gini Dietrich earlier, but not to his blog.)
Speaking of the trend towards abdication of personal responsibility (see #2) and a gimme gimme gimme mentality, this post was a breath of fresh air.
I've seen way too many posts complaining about why we should pay for such services.

Uh, I don't know, because they're businesses?!

If we can go get a cup of Starbucks every other day, we can pay for something that makes our online life easier. Especially when it's this reasonably priced.
Remember, even "free" has a price.
These blogs, and people, enrich my digital, and real, life. In some sense they have been, so far, unsung heroes; something I hope to continue to rectify in the future. Who are yours?
Image: Travis K via Flickr, Creative Commons