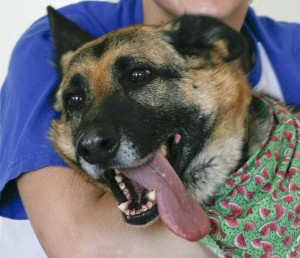 Since I first blogged about Darby the (female) German Shepherd, there's been a lot of interest in her and her situation. There are so many people who have helped spread the word, and continue to do so, that I couldn't begin to list them all here. But you know who you are, and I thank you from the bottom of my heart.
As an aside, almost all of you have connected with me through Twitter – what an incredibly effective communication platform (and guess what, Darby decided to get on Twitter too).
A few more details on Darby have emerged in the last few days, as well as answers to questions I've been getting. So here's the Darby FAQ (remember, I'm not a dog trainer or behaviorist and am simply telling you what I've been told – any of this could change based on the environment Darby is in):
What's the deal with the aggression?
A better way to describe this, according to the trainer at Townhouse Pet Care Center, where Darby is currently being cared for, is that she has a strong "prey drive." This isn't PR-speak; if you're familiar with Shepherds (I grew up around them) and similar breeds, you know it comes with the territory.
The people who have had the most contact with Darby – the folks at Townhouse, my friend Susan Ragan and a good friend of our late uncle, all believe Darby can be re-socialized with the right attention and training. In other words, it's highly unlikely that she's un-rehabilitable.
What are Darby's vital statistics and history?
Darby was adopted by our late uncle three or four years ago from a shelter. So she has the same history as just about any other shelter animal – not much. She's a smaller GSD (between 60 & 70 lbs), spayed and from all indications in good health – she shows no signs of dysplasia, etc. But I don't have access to any records on her, other than what Townhouse might have. Like any shelter animal, what you see is what you get.
Is Darby good with kids? What's her temperament?
Yes, by all accounts she's extremely loving and people- and kid-friendly. Like most GSDs, she's extremely intelligent as well. She's well-behaved, housebroken, and does not bark excessively.
Does Darby need to be an "only pet"?
I certainly think that would be an ideal situation, since she'd be in a non-threatening environment. However, if she does go to a home with other pets, she will likely settle down with the right amount of attention and training. I can't promise you anything, though.
Have I tried to contact breed-specific rescues and other groups?
Yes. So far I haven't had any luck in reaching them, other than the Oregon German Shepherd Rescue, who have acknowledged my emails and phone calls, but who have not made direct contact with me yet. (And yes, I'm still trying). The Oregon Humane Society has been extremely helpful in directing me towards certain rescue groups as well.
What if someone outside of Portland, Ore., wants to adopt Darby?
If this is the right fit, you bet I'll talk to them. The folks at PetRelocation.com saw my earlier post and have made the incredibly generous offer of transporting Darby to her new home, wherever that might be, free of charge. So now we just need to find a home for her.
What's going to happen to Darby in the next few days?
The perfect solution, of course, would be to find a "forever home" for Darby and move her there. Failing that, we need to get her into a foster home – of which there are potentially two right now – and continue the search for permanent placement.
Practically speaking, this would be a foster home in the Portland area. The folks who have stepped up so far, including her caretakers at Townhouse, have been incredibly generous with their time and support, but I would like to stop being a drain on their resources as soon as possible.
A couple of folks I've connected with through Twitter – both outside of Portland – are considering giving Darby a home as an option of last resort. But – and I can't stress this strongly enough – they both have constraints and nothing is a done deal. So it's critical that we keep looking for a home for Darby.
If someone's interested in Darby, how can they contact me?
Email me at info@getsharpdev.com/shonaliburke; if you're on Twitter, tweet me. If someone you know or have passed the information along to wants to talk to me, please ask them to let me know how they got the information.
Will social media save Darby? I don't know … yet. I certainly hope so; it has certainly been extremely effective in getting people around the country – and the world – talking about her.
I might add that Darby's got more gumption than most people I know (including myself); she's been hitting up Ellen, Oprah and Rick Sanchez as well (no response so far).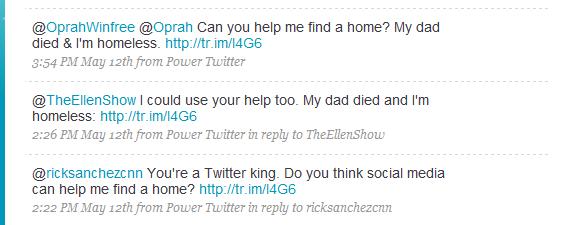 I can't even begin to tell you how grateful we are for your support and concern for Darby. I hope you'll continue to help put the word out there, however you can – by tweeting and re-tweeting this post, spreading the news among your online and offline networks, posting to your Facebook pages, etc. – so that we can put social media to use for Darby's good.
Thank you.
Darby's photo courtesy Susan Ragan