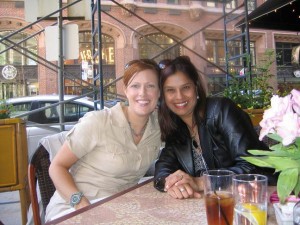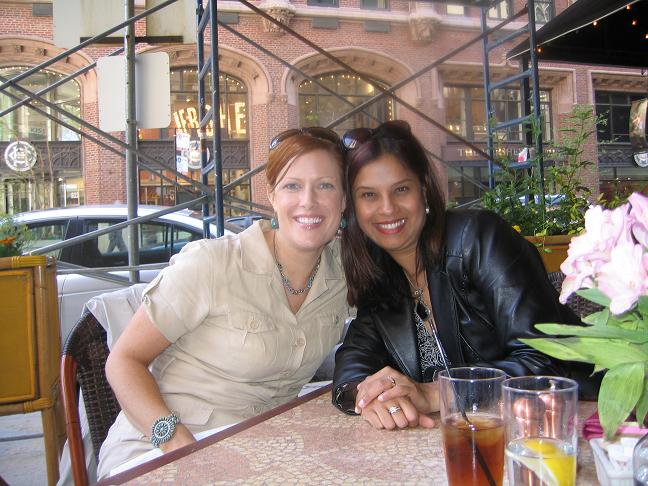 Last week I had the pleasure of presenting, for the first time ever, at Ragan Communications' 2009 Corporate Communicators Conference in Chicago. As someone who's wistfully devoured the CCC brochures every year, this was a big thrill for me.
My session on strategic communications planning took place a week ago today; unfortunately I wasn't able to stay over and attend the "unconference," so missed meeting many of the wonderful and smart people I've gotten to know on Twitter. I did get to meet Amy Mengel (whose Ragan recap is absolutely killer), Ann Marie van den Hurk, APR, and Lee Aase among others, catch up with the lovely Angie Jeffrey, APR, Katie "queen" Paine and the amazing Jim Ylisela, and have a fabulous lunch and walk with the effervescent and super-smart Kate Zimmer (see how happy we are?).
The Skinny on the Presentation
The presentation itself went well (I think); I must admit I was tickled by having to move from a breakout room to the main ballroom in order to accommodate all the attendees. I very much hope it was worth their while.
When I'm asked to make these presentations, I often wonder – as I'm sure all speakers and presenters do – what I can provide to the audience that will be of most value. Or am I going to say the same things everyone else does, but with a slightly different accent?
So Beth Harte's recent post, "Social Media's Dirty Little Secret" really resonated with me. If you haven't read it yet, you should, as well as click through to Dan Keeney's post to see the video she mentions and read all the comments.
See – I agree with Beth. Social media is nothing new. And I'm going to go one step further and say that 99% of the time, PR is nothing new. Strategic communications is nothing new.
A vast majority of the time, I find the tweets, blogs, LinkedIn questions, yadda yadda, that I follow and read/respond to… nothing new. And that includes the stuff I say.
Before your jaw quite reaches the floor, I think that's OK.
We're not – as the rest of the world loves to say about us "PR types," rocket scientists, tech geniuses or wildly-brilliant theorists. Most of us will probably never rise to the level of a Les Potter or Jim Grunig.
But that's OK.
Where we add value – I hope – is in reinforcing time-tested communications best practices with practical examples of how we've achieved success for our clients or organizations, and showing others how they might adapt those practices for their use. I have to believe that younger professionals in particular derive great value from this.
And perhaps we're saying it in a new voice, or a new style, that people identify with, and which drives them to adopt the aforesaid practices.
That's what I hope attendees got out of my presentation which, in a nutshell, tried to reinforce the importance of starting with your end in sight, putting measurable objectives in place, and figuring out your strategy accordingly. (Gosh, where have I heard that before? Here, and here, and here.)
So if you were expecting a flash of brilliance from my presentation, I'm going to apologize in advance for disappointing you.
Now that I've gotten that out of the way, here it is.
A special word of thanks to everyone who contributed to the presentation, particularly Lauren Vargas for reviewing it beforehand, and Bryan Person and Jenna Woodul of LiveWorld for a fabulous case study.