Estimated Reading Time: 9 minutes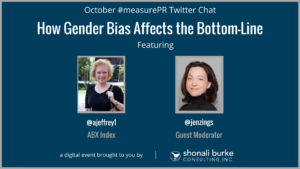 Guest Post by Jen Zingsheim Phillips
The October #measurePR Twitter chat focused on the issue of gender bias in advertising and how measurement of gender bias can affect PR.
Our guest for the October chat was Angie Jeffrey, APR, ABX's Vice President of Brand Management. She is on the team behind the Gender Equality Measure (GEM™), created jointly by ABX and the National Advertisers (ANA) Alliance for Family Entertainment (AFE)'s #SeeHer team.
GEM provides measurement standards for advertising/TV programs and creates accountability for change. ABX and ANA AFE were recently awarded the prestigious 2017 ESOMAR Research Effectiveness Award for their work.
As guest moderator, I chatted with Angie about how she started in measurement, what some of the biggest barriers to proper measurement are, and what the PR measurement community can learn about gender bias from the advertising measurement community.