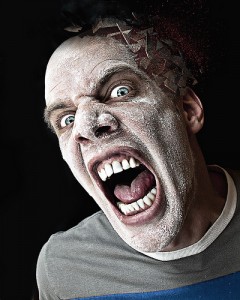 I don't know how you organize your RSS feeds, but except for the feeds I have set up for client monitoring, mine are in alphabetical order. So my usual M.O. is to check my client feeds, and then go through the rest from A-Z. Some day I might progress to Amy Mengel's system, but for now, I'm basic like that.
Lately, though, I find myself going to David Murray's Writing Boots (which, if you don't read or subscribe to, you should) first. Hardly a new kid on the block, he's funny, irreverent, often brutal… and always puts a smile on my face. (This guy you're staring at isn't him, by the way… as far as I know).
I didn't know whether to laugh or cry today when I read his latest on IABC's Film Festival. I'm an association member, heavily involved at the local level (and somewhat involved at the international level). And I've found tremendous value in my membership, so far at least (just making that clear, I'm not going to diss IABC here). I've found the "IABC family" warm, welcoming and encouraging, for the most part, I truly have, and some of the smartest people I know are committed IABCers at the local, regional or international level.
But if only someone were to make a video like this one…

Creating A Stop Sign – Watch more Funny Videos
Looks like there's a grand total of six entries in the IFF, by the way. So if you're an IABC member brave (or confident) enough to do so, you've got two more days to enter. And props to IABC for trying. Nothing ventured, nothing gained.
Thanks for the laugh, David. And I found this amazing photograph on illuminaut's Flickr stream.