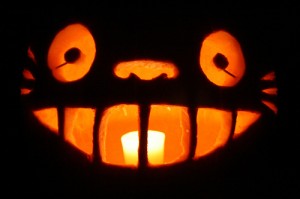 Growing up as a middle-class kid in India, Halloween was fascinating to me. We didn't really celebrate it there as one does here in the U.S. and other countries (though it might be a different story now, I don't know). It felt a little forbidden, probably because of its pagan roots, so that was appealing in itself. Over and above that, the idea of dressing up as something completely outlandish that I loved. Probably not surprising when you think of the horrendous school uniforms my friends and I had to wear all the way through high school (and no, I don't have a photo and if I did, there's no way in Hades I'd let you see it).
When I moved to the U.S., the first Halloween I marked was in San Francisco. Though you could argue every day is Halloween in SF, I remember my head spinning at the costumes I'd see on the street from 9 to 5'ers all ostensibly going about their daily business in a perfectly nonchalant way.
Even more amazing to me was that businesses weren't just ok with their employees coming to work in costume, but that they got into the spirit of the day and actively encouraged it. I remember one year I was headed out on a business trip on – you guessed it – Halloween. Somehow getting my boarding pass issued by a witch or warlock made a typically cringe-inducing process fun. The airline staff was even – shock and awe – nice.
"Grownups" don't go trick-or-treating any more, (at least, most of the grownups I know) but I think we love Halloween because it allows us to go outside the usual perception of ourselves. We can be kooky or dour and behave in a generally uncharacteristic manner for a day – and it's ok. It lets us communicate a facet of ourselves that others might not generally know about, and often that helps break down barriers, just a little bit.
So the next day, when everything's back to "normal," and your co-worker does that annoying thing that irritates you, maybe you remember a completely different side of her because of Halloween merriment, and maybe you don't react the way you normally would, but take a breath and defuse what's potentially a workplace conflict. At least, I'd like to think so.
Halloweening Up PR
If public relations is really about relationships with our publics (as I believe it is) wouldn't it be great if we took that same creativity and generosity of spirit to our work and audiences, co-workers, and clients?
Imagine providing PR counsel that's measured, thoughtful, fun to plan and implement, gets you excited just thinking about it, out of the proverbial box and that doesn't jump the proverbial gun. Wow, what a concept (not proverbial, though, hah!).
I know we say this about the holidays, the "Christmas spirit," blah blah – but really – let's put some Halloween into our PR.
Take a leaf out of Herman Munster's book. I will.

How do you liven up your every day work, yet keep it real? Have you Halloweened it up in a way that makes you a better public relations practitioner? Please share, I'd love to know.
Thank you absentmindedprof for this great photo from your Flickrstream.