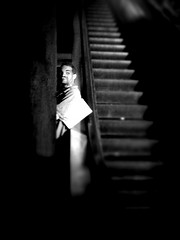 Something spammy this way comes
As someone who occasionally has to ride the DC area public transit system, I signed up for email alerts from WMATA, the transit authority than runs the oft-plagued system.
Since yesterday, I've received 22 email "alerts" from them.
Not one of them has anything to do with delays or the lack thereof on any of the Metro lines.
Instead, they invite me to:

… take advantage of "killer prices" on certain prescription drugs,

… help (someone) steer clear of possible suicide, and – this is the best –

… enlarge an anatomical appendage I do not possess.
They're pretty funny, actually.
I've been deleting them without clicking through to the oh-so-tempting URLs they contain, but am waiting to see if something even more creative comes around.
I'm assuming that there is a ghost in WMATA's machine
or that Dr. Evil has hijacked WMATA's email alert system, which is actually quite helpful … when it works.
I tried tweeting @wmata, but with no joy.
Guess I shouldn't be surprised since they use Twitter to primarily broadcast information on line disruptions.
Because, of course, that's how we should ALL be using social media… as a form of one-way communication!
(You know I'm joking, right?)
I've tried to let WMATA know by filling out their "contact us" form, but don't expect a reply to that any time soon.
I did, however, ask @unsuckdcmetro if he (she?) had heard anything about this.
Turns out, I'm not the only one whom Metro delays and fare hikes apparently have sagging.
Now WMATA just has to find out about it. And fix it.
Oh!
Another one just came through.
It says:
"Stop sending harassing messages. No more emails from you."
Guess I've been put in my place.
Image: DC Metro People via Flickr, CC 2.0